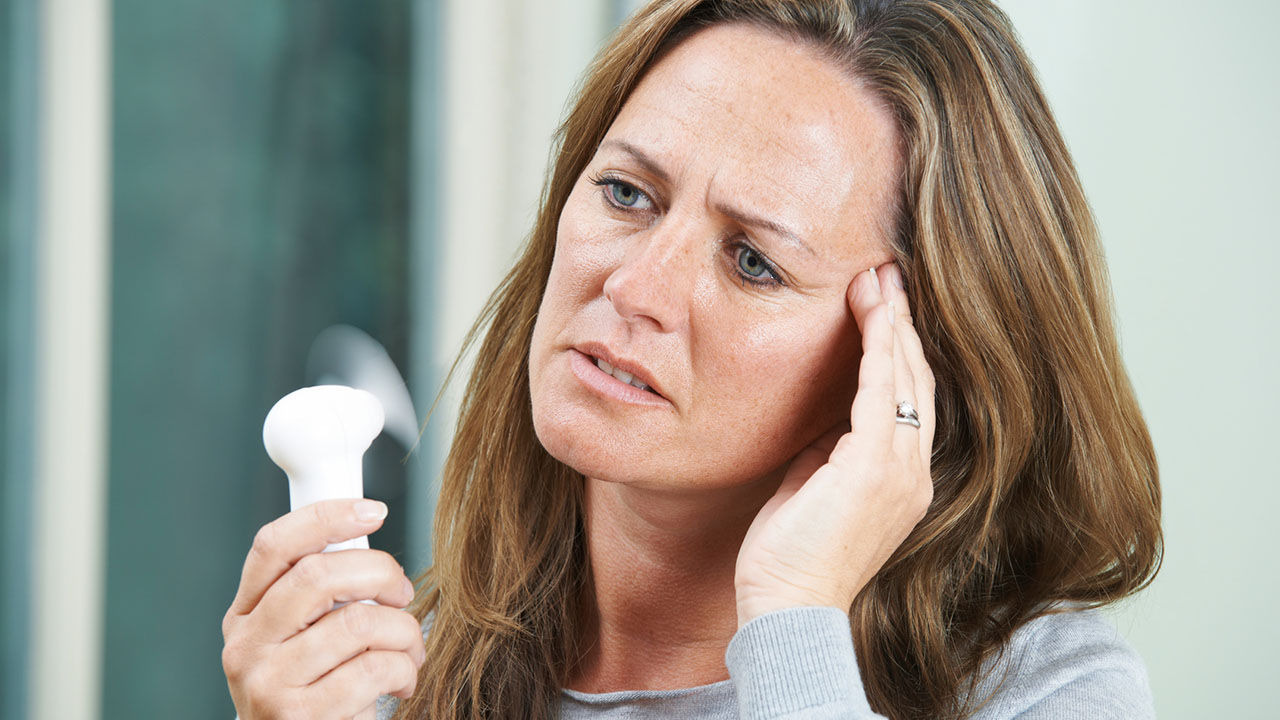 highwaystarz/fotolia
According to the Mayo Clinic, symptoms of a hot flash include:
A feeling of warmth that comes on quickly and spreads to your face and upper torso
Flushing of the skin
Rapid heartbeat
Perspiration, especially on your upper body
Chills as the hot flash passes
Hot flashes that occur when you're sleeping are called "night sweats." Both hot flashes and night sweats can make you miserable. These products may offer some welcome relief:
Fans: Many women keep fans near their desks, sofas, or beds. Smaller fans fit on top of a desk or a nearby table. Fans termed "personal fans" are battery operated, and you can hold them directly to your face. Necklace fans offer cooling on the go! Today's fans are reasonably priced, and you can find them in festive colors and artistic designs.
Spray Bottles: Have a bottle handy for a cool spray when a hot flash hits. Consider adding a refreshing scent such as a drop of peppermint oil. As a festive present for a hot flashing friend, use permanent markers to personalize a spray bottle just for her.
Nightwear: The North American Menopause Society advises women to sleep in "light, breathable nightclothes." You can purchase nightwear made of fabrics specially designed to wick moisture and dry rapidly.
Linens: Companies are now making sheets and pillowcases with fabrics that wick moisture to help you stay dry. If you're purchasing standard bed sheets, choose cotton or linen fabric and look for a lower thread count, which allows more airflow than sheets of a tighter weave.
Pillows and Cooling Pads: You can buy pillows designed to keep you cool during a night sweat. Many are constructed with fabrics and fillings that absorb heat. Some pillows are filled with a cooling gel; others use a water system to regulate temperature. Cooling pads rest on top of your regular pillow or slip inside your pillowcase.
Towels: Consider a cooling towel for those hot flashing moments. You wet it, wring it out, and loop it around your neck. Some cooling towels are marketed especially for menopausal women, but towels created for athletes work well too.
Cold Packs: These can be placed in your bra or waistband or held against your skin with your hands. Since they don't need to be chilled, cold packs designed for one-time use are especially convenient when you're at work or on the go.
Necklaces and Bracelets: Chill these in your freezer and then slip them on for a fashion statement that keeps you cool. One company makes an artistic necklace of vibrant fabric. Another designer sells shiny pearls in a variety of shades.
Bandanas: Cooling bandanas come in fun, funky colors and patterns. Soak the bandana in cold water, wring out, and wear!
Reviewed March 17, 2016
by Michele Blacksberg RN
Read more in Your Guide for Menopause & Hot Flash Treatment Options