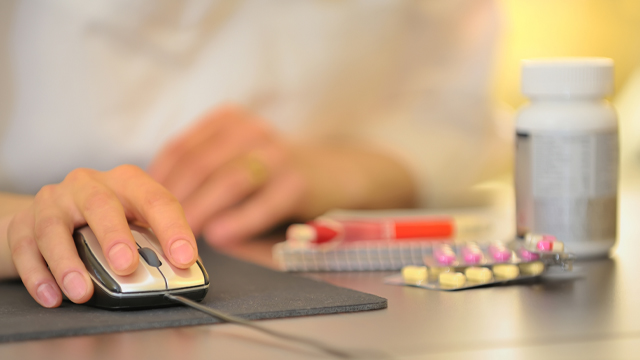 iStockphoto/Thinkstock
There is still no cure for multiple sclerosis (MS) but a lot has changed in the way it's treated. Advancements in medications, known as disease-modifying therapy, have shown to change, slow or stop the natural progression of MS in many patients, but these drugs may not be right for everyone.
The National Multiple Sclerosis Society's Clinical Advisory Board agrees that disease-modifying medications are most effective when started early, before the disease has the opportunity to further progress. Many neurologists recommend starting treatment with either interferon beta or glatiramer acetate when MS is diagnosed.
Most experts agree permanent damage to the central nervous system may occur early on, while your symptoms are still mild. Early treatment may help prevent or delay this damage.
The National MS Society says treatment with medicine may also be considered after the first attack in some people who are at a high risk for MS (before the MS diagnosis is definite).
In April 2012, the drug maker Merck announced preliminary results of a new Phase III, three-year clinical trial.
The results showed MS patients who received injections interferon beta-1a soon after their first signs of possible MS were less likely (28 percent) to progress to clinically definite MS than MS patients who switched to interferon beta-1a from placebo (41 percent).
The drug is currently available in the European Union, Asia and Latin American but is not available in the United States. The results are considered preliminary because the clinical trial is ongoing. Long-term data is expected for another five years.
There are currently eight Food and Drug Administration (FDA) approved drugs for use in relapsing forms of MS (including secondary-progressive multiple sclerosis or SPMS, for those people who are still experiencing relapses.) The National MS Society says of these, only one drug, mitoxantrone (Novantrone), is approved specifically for SPMS.
Whether to take a disease-modifying medication is one of the most important decisions MS patients have to make. This decision should only be made after carefully considering and weighing how your individual lifestyle could affect your ability to stay with the treatment over time.
Other considerations should be the disease course, known side effects, and the potential benefits and risks of each therapy, the National MS Society says. (A full list of MS drugs, their known side effects and drug warnings are available on the Society's website.)
"A full discussion with a knowledgeable health care professional is the best guide in your decision, as each person's body or disease can respond to these medications in different ways," MS Society literature said.
While all MS medications have been shown to reduce the frequency of relapses by as much as 68 percent, and to lower or eliminate the development of new lesions, these benefits come at a cost.
Disease-modifying medications are expensive. Some drugs can run as much as $2,000 to 7,000 per month, even with insurance coverage.
It is also possible your insurance company will cover some MS drugs but not others, so it's a very good idea to verify your coverage information in advance of finalizing your decision.
If you are uninsured or underinsured, you may qualify for a patient assistant program. For details, visit www.needymeds.org/ or www.nationalMSsociety.org/AssistancePrograms/
Lynette Summerill is an award-winning writer and Scuba enthusiast living in San Diego, CA with her husband and two beach loving dogs. In addition to writing for EmpowHER, her work has been seen in newspapers and magazines around the world.
Sources and patient information:
The National Multiple Sclerosis Society. The MS Disease-Modifying Medications: General Information. Available online for download at: http://www.nationalmssociety.org/download.aspx?id=45
Study: Use of Drug Following first Sign of Possible MS reduces Likelihood of Progression to MS. PR Newswire. 19 April 2012. http://www.marketwatch.com/story/study-use-of-drug-following-first-sign-of-possible-ms-reduces-likelihood-of-progression-to-ms-2012-04-19
How Secondary-Progressive MS is treated. National Multiple Sclerosis Society. Online at:
http://www.nationalmssociety.org/about-multiple-sclerosis/progressive-ms/secondary-progressive-ms/how-spms-is-treated/index.aspx
MS Treatments. National Multiple Sclerosis Society. Accessed 24 April 2012 at:
http://www.nationalmssociety.org/about-multiple-sclerosis/what-we-know-about-ms/treatments/index.aspx
Reviewed April 25, 2012
by Michele Blacksberg RN
Edited by Jody Smith