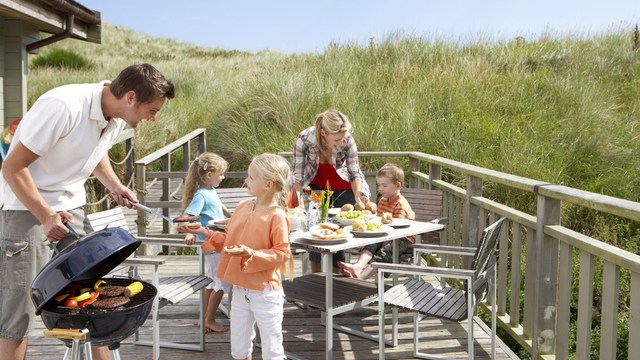 MonkeyBusiness Images/PhotoSpin
It's officially May which means it's National Burger Month. We're heading into Memorial Day, when thought turn possibly to barbecuing, but definitely to burgers.
So in honor of both Burger Month and Memorial Day, unlike Foodbeast.com which sought out the beefiest and more beast size burger choices, I will provide you with some other healthful options.
First, tame your burger with a different beast, such as bison. According to JillianMichaels.com on LiveWell, " A 3-ounce serving of ground bison contains about 150 calories and offers 22 grams of protein, while a similar portion of 80 percent lean ground beef weighs in 40 percent richer, at 216 calories. Although the beef burger carries more calories, it serves up only 15 g of protein."
Also, your burger does not have to be red meat nor meat at all. Think beans, garnishes, fish and poultry to create a burger that is the culinary king of burger cuisine. Here are some of my favorite original burger recipes.
RED PEPPER BISON BURGER
• 6 oz. of ground bison
• 1tbsp. of olive oil
• 1 tbsp. of red pepper spread (usually found in ethnic food aisle of grocery store)
• 1 slice of sharp Provolone cheese
• 1 slice of multi-grain bread
Mix together bison and red pepper spread and form patty.
Grill, flipping over until juices run clear.
Top with a piece of sharp provolone.
Served open-faced on a slice of multi-grain bread.
BLACK BEAN PIMENTO BURGERS
• 1 cup of organic black beans
• 3 tbsp. of almond meal
• 10 chopped green olives w/ pimentos
• 1 egg white
• 1 tbsp. of chopped fresh parsley
• Dash of garlic powder
Mix all ingredients together.
Form burgers and grill or broil until cooked through.
TUNA
• 1 can tuna
• 1 egg
• 2 tbsp. of Parmesan cheese
• Garlic powder, salt and pepper to taste
• 1 large tomato
• Olive oil cooking spray
• Dijon mustard
Mix tuna, egg, and Parmesan together.
Form into patties and place in frying pan sprayed with olive oil.
Sprinkle with seasonings and fry.
Serve with sliced tomato and Dijon mustard.
TURKEY MUSHROOM SWISS BURGER
• 4 oz. of ground turkey breast
• 1 tbsp.of olive oil
• ¼ tsp. of garlic powder
• ½ teaspoon of Worcestershire sauce
• 1 tbsp. of chopped scallions
• 2 medium shiitake mushrooms chopped
• 1 Slice of Swiss Cheese
Mix together turkey, garlic, Worcestershire sauce and set aside.
Sauté scallions and mushrooms in medium skillet for about 5 minutes.
Mix onion mixture in with turkey and form two small burgers.
Grill, flipping over until juices run clear.
Top with Swiss cheese.
Sources:
"Burgers that will have you drooling you're your Keyboard – FoodBeast.com." Food Beast. Web 23 May 2014.
http://www.foodbeast.com/2014/05/04/burgers-that-will-have-you-drooling-over-your-keyboard-in-honor-of-national-burger-month/#8Pb6hk5c4vXaEx2j.99
"Bison Meat Benefits – LiveWell.JillianMichaels.com." Jillian Michaels LiveWell. Web 23 May 2014.
http://livewell.jillianmichaels.com/bison-meat-benefits-5521.html
Reviewed May 23, 2014
by Michele Blacksberg RN
Edited by Jody Smith
Tags: