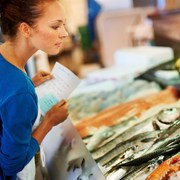 MonkeyBusiness Images/PhotoSpin
If you're struggling with your weight, eating the ocean's bounty is a good way to stay on track. Fish has long been a favorite of most dieters and it is no wonder, there are plenty of versatile ways to enjoy it.
According to the American Heart Association, fish can also play a role in keeping your ticker on task, potentially "reducing your risk of dying of a heart attack by a third or more." They recommend eating one to two servings of fish a week.
"Doctors have long recognized that the unsaturated fats in fish, called omega-3 fatty acids, appear to reduce the risk of dying of heart disease."
The Harvard School of Public Health also stated that in addition to omega-3 fatty acids, fish is also rich in "vitamin D, selenium and protein. Vitamin D is one of the 13 essential vitamins your body uses to absorb calcium and to maintain healthy teeth and bones."
Below are some of my original and favorite ways to prepare fish:
TERIYAKI SALMON WITH STEAMED ASPARAGUS AND SMALL SALAD
(2) 5-ounce pieces of salmon
1 Tablespoon extra virgin olive oil
2 Tablespoons rice wine vinegar
2 Tablespoons Worcestershire sauce
2 Tablespoons soy sauce
2 Teaspoons minced gingerroot
2 cloves garlic
Preheat broiler.
In large ceramic bowl, combine oil, vinegar, Worcestershire sauce and garlic.
Coat salmon on both sides in mixture.
Place on broiling pan and cook for 2-6 minutes on each side or until it flakes easily.
Makes 2 servings.
Serve with steamed asparagus (approx. 8 spears each)
TANGY TILAPIA
• (2) 4-ounce pieces of tilapia
• 2 Tablespoons olive oil
• 2 Tablespoons lemon juice
• Dash of oregano
• Dash of black pepper
• 2 Tablespoons balsamic vinegar
• 1 Teaspoon chopped parsley
• Dash of tabasco sauce
Coat a non-stick skillet with olive oil. Place tilapia in pan and let cook on one side.
In separate bowl, combine lemon juice, oregano, black pepper, balsamic vinegar, parsley and tabasco sauce.
Flip tilapia and pour mixture on top. Let simmer until flakey.
Serve with 1 cup of steamed spinach.
SPICY MAHI MAHI SOFT TACOS
• 2 Tablespoons red pepper oil
• (2) 6-ounce fresh mahi-mahi fillets
• ½ Teaspoon red pepper oil
• (6) 6-inch flour tortillas
• ½ cup onion, chopped
• 1 Tablespoon fresh cilantro, chopped
• salsa
• Low fat sour cream
Cook mahi-mahi in oil in heavy skillet over medium-high heat. Cook each fillet for 3-4 minutes one each side, until golden brown
To serve, place a portion of the mahi-mahi in the center of each tortilla. Add onion, cilantro, salsa and sour cream to taste.
Makes 6 servings.
Serve with mixed greens and 2 tablespoons of Lime Avocado Dressing (see following recipe).
LIME AVOCADO DRESSING
• ½ of Avocado
• 1 Tablespoon lime juice
• 1 Tablespoon white wine vinegar
• ¼ Cup of Greek or plain yogurt
• Salt and pepper
Peel and pit avocado, put avocado in food processor along with other ingredients
RISOTTO STUFFED HALIBUT
• (2) 6-ounce thickly-cut halibut steak
• 1 Cup cooked cauliflower florets
• 1/4 cup cooked brown rice
• 1 Teaspoon minced garlic
• 1/4 cup sliced portobella mushrooms
• Parmesan cheese to taste
• 1/4 cup heavy cream
• Butter substitute spray
Preheat oven to 350 degrees.
Cut a slit halfway through each halibut steak.
Chop cauliflower in food processor until grain like.
Spray frying pan with butter substitute spay. Sauté garlic and mushrooms.
Add cauliflower and brown rice.
Season with salt and pepper.
Add Parmesan cheese and heavy cream and cook until creamy texture.
Stuff each halibut steak with risotto mixture and place in baking dish.
Bake for 15-20 minutes or until fish is flakey.
Makes 6 servings.
Online References:
"How eating fish helps your heart– MayoClinc.com." Mayo Clinc. Web 11 Sept. 2012.
http://www.mayoclinic.com/health/omega-3/HB00087
"Why is Fish Healthy To Eat – LiveStrong.com." Live Strong. . Web 11 Sept. 2012.
http://www.livestrong.com/article/387734-why-is-fish-healthy-to-eat/#ixzz26AsbaYeZ
Joanne Sgro-Killworth is a Television Fitness Expert, Certified Personal Trainer and Sport Nutritionist. She is Certified in Pilates, Pre-natal/Post-Partum, Yoga and Senior Fitness. She specializes in Weight Loss, Post-Rehab and Post Cancer Training.
Joanne's fitness plans and recipes are available globally on her website www.fitnessanswer.com/ She resides in the Phoenix, AZ area with her husband and son, where she runs her personal training business, Fitness Answer, LLC.
Reviewed September 12, 2012
by Michele Blacksberg RN
Edited by Jody Smith