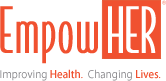 ---
Just in the last 2 days I have been experiencing a warm sensation that happens periodically throughout the day in my right lower butt cheek very close to the vagina. There is no pain anywhere just feels like something warm was poured in that area.
By Anonymous
Created 04/07/2010 - 18:20
Copyright © 2022 HW, LLC d/b/a EmpowHER Media unless otherwise noted. EmpowHER does not provide medical advice, diagnosis, or treatment.
---