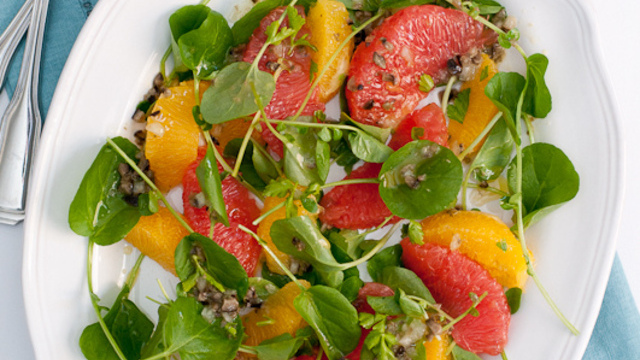 Getting your kids to enjoy eating salads can be a hassle, but it is not impossible. Here are six salad recipes from Welch Wellness that prove that salads can be incredibly delicious with the right combination of veggies and zing:
1. The Love Salad

Jennifer/Flickr
This Valentine's Day themed salad is sure to make you fall in love with quinoa. With savory jalapeños, caramelized onions and avocados to spice up this grain, you'll surely fall into the hype. Not only is this tasty, but it is also quite nutritious as it provides you with protein and healthy fats. Drizzle with champagne vinaigrette for an extra kick.
Click here for the recipe.
2. Grilled Potato Salad

Claire Bate-Roullin/Flickr
A potato salad may seem like a bit of a stretch, but this recipe is too delicious to leave out. This salad strikes your taste buds with tangy dijon mustard, sliced radishes, crumbled blue cheese and a hint of apple cider vinegar.
Click here for the recipe
3. Kid-Approved Rainbow Salad

Rich Everson/Flickr
Red, yellow, green and orange bell peppers do the trick. As long as you give them a colorful plate, kids are sure to enjoy eating their veggies, too. This is a simple salad that can satisfy even the pickiest of eaters.
Click here for the recipe
4. Holiday Kale Salad

Connoisseur 4 The Cure/Flickr
The holidays may be over, but it's never too late to incorporate this leafy green into your diet. Sweet pomegranate seeds, feta cheese and candied pecans make kale an enticing treat.
Click here for the recipe
5. Watercress Salad with Orange Segments, Roasted Asparagus, Thinly Sliced Radishes with Citrus Vinaigrette and Slivered Almonds

Lindsey Johnson/Flickr
This dish is simply mouthwatering. Here's a tangy way to sneak watercress into your diet. This leafy green is known to possess significant anti-cancer properties and provides you with essential vitamins A, C and K.
Click here for the recipe
6. Awesome Asian Chicken Salad

Deborah Harroun/Flickr
In case you're not already convinced that salads are awesome, try this colorful mix: purple cabbage, fresh ginger, slivers of red and yellow bell peppers and pulled chicken. Flavor with a spicy dressing of your choice for the final touch.
Click here for the recipe