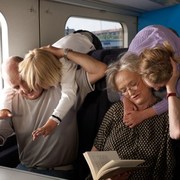 Ulrik Tofte/Lifesize/Thinkstock
Summer is more than half over. If you're thinking about taking your grandchildren on a little vacation while the weather is still warm, it's time to get on it.
Don't be surprised if you see many other grandparent and grandchild combos when you're away. It's a wonderful trend that is growing strong.
The number of grandparents traveling with their grandchildren is increasing, according to Indepenttraveler.com.
TheTravel Industry Association of America reported that 30 percent of American grandparents traveling on holiday have had at least one of those holidays with their grandkids, according to About.com.
You may be planning a trip without your grandbabies' parents, but they should play an integral role in your planning.
You may know your grandchildren very well, and hold them at the center of your heart, but let's face it. The parents are the ones who know these kids, and their daily quirks and routines.
When do they nap? You'll want to plan around these siestas. Maybe join them in catching some mid-day zee's.
How often do they need to eat? What food do they eat?
You may know their favorite snacks and treats but save yourselves and them from hunger-triggered drama. Their parents can help you to provide a sense of the familiar in the midst of your journey.
Once you've done your initial planning, it's time to let the grandkids in on the fun.
Tell them where you're taking them, and where they'll be staying. Let them know whether you'll be going by plane, train, bus or car.
Do you live near your grandchildren? Help them anticipate what's to come by showing them websites about your destination. Show them maps, tell them about the culture if the trip is going to take you all far from home.
Do you live a distance away from the grandkids? Use the wonders of the Internet, and show them everything you can think of to help them picture the upcoming holiday. Send them emails, and links to sites about your destination.
Make sure to take care of the more pragmatic details.
Have your grandkids' identification, and contact information. Bring recent photos of them along, in case God forbid they should get separated from you at any point.
Hopefully there won't be any medical emergencies, but be prepared for all possibilities. Ask the parents for notarized authorization for any needed medical care.
If the kiddies need to take any medication you'll want to have the details written down and close at hand to make sure all is done as it should be.
If you're just looking for fun, amusement parks, water parks, cruises, or camping could be just the thing.
Planning your trip to enhance the love of a favorite hobby can be a memorable experience your grandchildren will remember for the rest of their lives.
Educational vacations to aquariums, museums, or areas of great historical significance, like the nation's capitol, will make otherwise dry information come alive for your grandkids.
Sources:
Traveling with Grandkids (Without a Nap). Travelsense.org. Retrieved March 10, 2012.
http://www.travelsense.org/tips/intergenerational.cfm
Traveling with Grandchildren. Independenttraveler.com. Retrieved March 10, 2012.
http://www.independenttraveler.com/travel-tips/senior-travel/traveling-w...
Grand Travel: Ideas for Travel with Grandchildren. About.com. Retrieved March 10, 2012.
http://seniorliving.about.com/od/travelsmart/a/grandtravel.htm
Vacations and Day Trips With Grandchildren. About.com. Retrieved March 10, 2012.
http://seniortravel.about.com/od/typesoftravelforseniors/tp/VacationsWit...
Visit Jody's website and blog at http://www.ncubator.ca and http://ncubator.ca/blogger