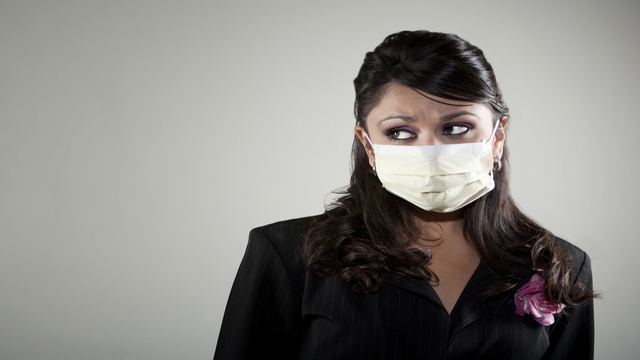 Scott Griessel-Creatista/PhotoSpin
If you have been diagnosed with acute silicosis, you may wish to go over the following five questions with your physician:
1. What will be the line of treatment you will take?
Acute silicosis is generally treated symptomatically. It has no real cure except to allay the occurring symptoms. Thus, a treatment including a combination of any of the following may be prescribed by your doctor:
• Cough suppressants
• Prophylactics for tuberculosis

• Chest physiotherapy such as finger drumming, patting and massage
• Antibiotics for tuberculosis
• Whole-lung lavage (rinsing)
• Lung transplant
• Stopping of smoking or tobacco usage
• Ventilation for lungs to ease breathing
• Corticosteroid therapy
• Inhalation of aluminium, polyvinyl pyridine N-oxide
2. Is there likelihood of any complications arising for me?
Apart from a possibility of respiratory failure or testing positive for tuberculosis, there are no other known complications that arise. In some cases where damage to lungs is extensive, conditions of lung cancer may develop with possibilities of progressive massive fibrosis. Very severe cases also end in fatality.
3. What is the outlook for patients like me?
This will depend upon the damage incurred on the lungs. Your doctor is the best person to inform you of this. Generally the prognosis is good. However, in severe cases, it may lead to fatality.
4. Are there any lifestyle changes I will need to make after recovery?
• Join a support group chapter in your locality
• Quit smoking
• Use air filter and humidifiers in your home
• Wear a mask when you visit any dusty area
5. Are there any prevention tips?
You could:
• Avoid eating and drinking near high risk areas mentioned in the first part of the advocacy sheet
• Use water sprays in dust areas
• Ensure proper ventilation and dry air filters for indoor spaces
• Avoid going to such places altogether
• Put on a mask when you need to be in areas with silicon dust in the air
• Take a bath after returning from such places for the day to wash off the particles settled on your body
• Wash your hands and face after exiting such places
• Train in safety techniques for such places
• Suggest replacement of silica with other material for health reasons
• Get yourself checked medically regularly for Potter's disease
ALL INFORMATION GIVEN IN THIS ADVOCACY SHEET IS TO BE CHECKED WITH YOUR DOCTOR BEFORE IMPLEMENTING THEM OR TAKING THEM AS STANDARD OR VERIFIED.
Mamta Singh is a published author of the books Migraines for the Informed Woman (Publisher: Rupa & Co.) and the upcoming Rev Up Your Life! (Publisher: Hay House India). She is also a seasoned business, creative and academic writer. She is a certified fitness instructor, personal trainer & sports nutritionist through IFA, Florida USA. Mamta is an NCFE-certified Holistic Health Therapist SAC Dip U.K. She is the lead writer and holds Expert Author status in many well-received health, fitness and nutrition sites. She runs her own popular blogs on migraines in women and holistic health. Mamta holds a double Master's Degree in Commerce and Business. She is a registered practitioner with the UN recognised Art of Living Foundation. Link: http://www.migrainingjenny.wordpress.com and http://www.footstrike.wordpress.com
Tags: