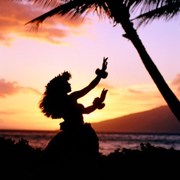 Thinkstock Images/Comstock/Thinkstock
The hula dance is one of the most beautiful and unique things about Hawaii and its culture. Every year in Hilo Hawaii, usually the week after Easter, is the Merrie Monarch Festival.
The festival is a weeklong competition of the best in hula.
Men and women from all over the mainland and Hawaii come to partake in this graceful festival of dance.
The late Hawaiian King David Kalakaua once said, ʺHula is the language of the heart, therefore the heartbeat of the Hawaiian people.ʺ This olelo (saying) is the pride of the Hawaiians.
According to Calorielab.com, 60 calories are burned by doing the hula every 15 minutes, or 238 calories for one hour.
Now here is some interesting information and history about the hula.
The hula is the graceful movement of the hands and body. Hawaiian dancers usually dance the hula barefoot. The movement of the hands and body translate the story of the song or history of Hawaiians.
The hula is usually confused with the fast-paced Tahitian dance. At one point, the hula was exclusively danced by men. The hula is always taught by a kumu hula (teacher) at a hula halau (hula school).
The Hawaiian legend is that Laka, the goddess of the hula, gave birth to the hula dance on the island of Molokai. According to Discover-Oahu.com, ʺin the early 1800's, American Protestant Missionaries arrived in Hawaii and denounced Hula as a lewd heathen dance. The newly Christianized Hawaiian Ali'i (royalty) were urged to ban Hula. The Ali'i banned public performances of hula, but continued to patronize it.ʺ
There are two types of hula dance. These are the ancient kahiko hula and the modern hula known as hula auana.
The ancient kahiko hula is taught by a very seasoned kumu who is passing down the knowledge of ancient Hawaiians. Since there was no formal history written, the Hawaiians use kahiko hula to tell their history of Hawaii. The kahiko dance is accompanies by meles (chants) and a pahu (ancient drum).
It seems the modern hula auana has been influenced by western culture. A ukulele or slack key guitar are generally used to accompany the auana hula dancer. The auana hula movements are slower and more graceful than the kahiko style of hula.
"In 1874 with the accession of King David Kalakaua, Hula once again, officially went public. King Kalakaua was know as the Merrie Monarch because of his love of gatherings, celebrations and parties," stated the Discover-Oahu.com website.
When you visit Hawaii, free hula lessons are easily available on the islands at different resorts and hotels. However, if you do not have an immediate trip to Hawaii planned, you can buy a beginners video/DVD on how to learn the hula, take a hula class at a local dance studio or even try a hot hula class.
References:
GoHawaii.com. Hawaii's Official Tourism Site -- Travel Info for Your Hawaii Vacation. Retrieved April 16, 2012, from
http://www.gohawaii.com/big-island/events/imported/2012/3/63a087d7_135f53378bf_7e6d
Calories Burned by Exercise, Walking, Etc. (CalorieLab). Calorie Counter (CalorieLab). Retrieved April 16, 2012, from
http://calorielab.com/burned
History Of Hula. Experience Oahu; The Adventure of a lifetime!. Retrieved April 16, 2012, from
http://www.discover-oahu.com/History-Of-Hula.html
Hula Shows & History - Learn How to Dance Hula | GoHawaii.com. Hawaii's Official Tourism Site -- Travel Info for Your Hawaii Vacation. Retrieved April 16, 2012, from
http://www.gohawaii.com/statewide/discover/essential-hawaii/hula-of-hawaii
Edited by Jody Smith