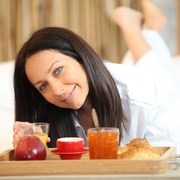 Auremar/PhotoSpin
Women often travel alone when on business trips. To some, this is a somewhat scary thought, aggravated even more by terrifying reports in the news of acts against females.
An article on the topic on the CNN website stated that "Global numbers are hard to come by but research cited in Brownell's Cornell University report shows women accounting for nearly half of all business travelers in the U.S. in 2010, up from approximately 25% in 1991 -- and less than 5% just 40 years ago."
The hospitality business, sensitive to the needs of the guests that stay in the hotels they serve, have started to take notice.
Women-friendly rooms are being developed by hotels and resorts across the world, catering more closely to what single travelers need when away from home. Nail polish remover pads, jewelry cases and colors that soothe are all among the changes being made.
The New York Times recently featured an article about this topic, written by Elaine Glusac, in which she discussed several hotels that are making changes to accommodate their clientele.
In the article, Glusac included statements made by Ann Mack, director of trend spotting at the marketing communications firm JWT, in which Mack said that she liked the fact that the rooms had a higher security level and pleasing design.
Having worked in the hospitality business for several years, and most recently as a front desk agent, I know the concerns of my hotel's female travelers first hand.
Recently, I checked in a lady traveling alone. She was extremely worried about being placed in a room on the first floor, because a creep might try to get in through the patio door or window when she was sleeping.
Of course, I assured her that such a thing would not happen, since the resort is in a great area and has security on patrol 24/7, but it did make me think about the what ifs.
I proceeded to ask my manager about what we, meaning the hotel, are doing to combat these fears in travelers just like this lady. He informed me that my hotel, too, is creating single traveler rooms as we speak.
The designated rooms are on higher floors, feature a modern and all-white design, and lack throw pillows (research conducted by companies show women toss these on the floor anyway). In addition, amenities especially for women are placed in the room. Special room service menu with smaller, healthier options are also being implemented by many hotels.
The Duke's Hotel in London even offers "fresh flowers and a complimentary fruit bowl" in addition to gossip magazines especially for women.
In Copenhagen, the place where the first women-friendly rooms were created in Europe, The Bella Sky Hotel has made it so that all of the rooms on the 17th floor are designed around women. A special key card is needed to gain access, which adds a sense of security for the women staying on this level.
With the percentage of female travelers this high, hotels should take note.
Sources:
Glusac, Elaine. "Hotels Create Rooms and Floors Just for Women." In Transit Hotels Create Rooms and Floors Just for Women Comments. New York Times, 29 Jan. 2012. Web. 16 Nov. 2012.
http://intransit.blogs.nytimes.com/2012/01/29/hotels-create-rooms-and-fl...
"Rooms and Suites-The Duchess Rooms." DUKES London Mayfair Boutique Hotel. Dukes Hotel, n.d. Web. 16 Nov. 2012.
http://www.dukeshotel.com
Gargiulo, Susanne. "Women-only Hotel Floors Tap Boom in Female Business Travel." CNN. Cable News Network, 20 Mar. 2012. Web. 16 Nov. 2012.
http://edition.cnn.com/2012/03/07/business/women-hotels-business-travele...