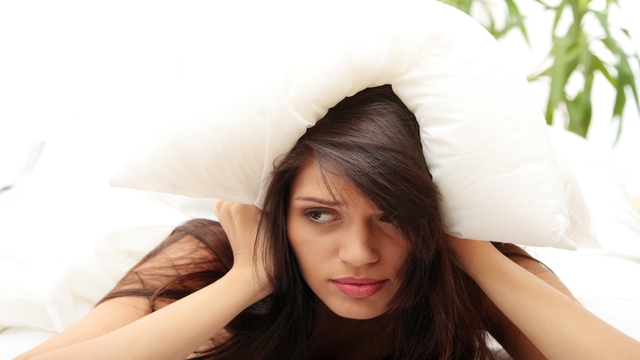 B-D-S/PhotoSpin
Being short on sleep can make us grumpy, tired and slow. However, a new study commissioned by Estée Lauder also showed that lack of sleep could contribute to increased aging of our skin.
Researchers at University Hospitals (UH) Case Medical Center evaluated the skin of 60 pre-menopausal women between the ages of 30 and 49. Half of the group had poor sleep quality as ranked by the Pittsburgh Sleep Quality Index, a standard questionnaire-based assessment of sleep quality.
The women's skin was evaluated using various tests of visual appearance and included UV light exposure. The skin quality was scored using a scale developed to differentiate between intrinsic (chronological) and extrinsic (photo) skin aging called SCINEXA.
What the researchers found was the women who were poor quality sleepers had twice the number of intrinsic aging signs in their skin. These signs included fine lines, uneven pigmentation, slackening of the skin and decreased elasticity.
The two groups did not show significant differences in those indicators of extrinsic aging, which are primarily due to sun exposure such as coarse wrinkles and sunburn freckles.
In addition, the researchers found the good quality sleepers recovered faster from stressors to the skin. Poor sleepers did not have as fast an improvement to sunburn. Their skin remained red longer, over 72 hours, indicating that inflammation was slow to resolve.
The women were also tested for the effectiveness of their skin as a barrier to stresses using a dermal water loss test. The recovery of the good quality sleepers was 30 percent higher than the poor quality sleepers, demonstrating that they repaired damage more quickly.
To top things off, the poor quality sleepers tended to be more overweight than the good quality sleepers. Sciencedaily.com reported that 23 percent of the good quality sleepers were obese compared to 44 percent of the poor quality sleepers. The researchers were not surprised that self-perception of attractiveness was also higher in the good quality sleep group.
"This research shows for the first time, that poor sleep quality can accelerate signs of skin aging and weaken the skin's ability to repair itself at night," Dr. Daniel Yarosh, a senior vice president at The Estée Lauder Companies said in a press release, according to Huffingtonpost.com. He expressed that the study will help the cosmetic company focus more research in this area to meet this needs of their consumers.
Dr. Elma Baron, lead researcher and Director of the Skin Study Center at UH Case Medical Center and Associate Professor of Dermatology at Case Western Reserve University School of Medicine told Sciencedaily.com that insufficient sleep has become a worldwide epidemic.
"Chronic sleep deprivation has been linked to medical problems such as cancer, obesity, diabetes and immune deficiency. Our study is the first to demonstrate that inadequate sleep is correlated with reduced skin health."
Dr. Baron presented the study results this spring at the International Investigative Dermatology Meeting in Edinburgh, Scotland.
Sources:
Sleep Deprivation Linked To Aging Skin, Study Suggests. The Huffington Post By Shelley Emlin 7/24/2013. Retrieved August 21, 2013.
http://www.huffingtonpost.com/2013/07/24/sleep-deprivation-effects-aging...
Sleep deprivation linked to aging skin, study suggests. ScienceDaily, 23 Jul. 2013. Retrieved August 21, 2013.
http://www.sciencedaily.com/releases/2013/07/130723155002.htm
UH News: Esteé Lauder Clinical Trial Finds Link between Sleep Deprivation and Skin Aging. University Hospitals. Retrieved August 21, 2013.
http://www.uhhospitals.org/about/media-news-room/current-news/2013/07/es...
Vierkötter A et al. The SCINEXA: a novel, validated score to simultaneously assess and differentiate between intrinsic and extrinsic skin ageing. J Dermatol Sci. 2009 Mar;53(3):207-11. doi: 10.1016/j.jdermsci.2008.10.001. Epub 2008 Dec 6.
http://www.ncbi.nlm.nih.gov/pubmed/19059763
Michele is an R.N. freelance writer with a special interest in woman's healthcare and quality of care issues. Other articles by Michele are at www.helium.com/users/487540/show_articles
Edited by Jody Smith
Tags: