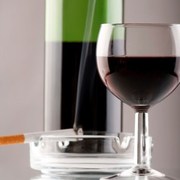 iStockphoto/Thinkstock
By serendipity, the scientific community has struck upon a drug which so far has been used to get chain smokers off cigarettes to treat alcoholism.
Study conducted by researchers at the University of Chicago showed that when the chemical/drug varenicline, sold under the brand name Chantix, is administered to alcoholics the negative side effects of alcohol consumed increases and fosters a feeling of dislike towards it.
In other words, it could prove invaluable in the management and treatment of alcoholism. Chantix is an FDA-approved non-nicotine prescription drug specifically designed to help adults quit smoking.
In their study, the researchers administered a single dose of varenicline to a group of moderate-to-heavy social drinkers three hours prior to their alcohol consumption and noticed spiked dysphoria.
Dysphoria is an emotional state characterized by intense feelings of depression, discontent and indifference to the world. This in turn also increased the feeling of "dislike" of alcohol in these drinkers.
According to the first author of the study and research associate at the University of Chicago Medicine, Emma Childs, PhD, "Smokers who use varenicline are approximately two to three times more likely to remain abstinent six months or more after their quit date. After it was approved, several patients treated with varenicline also reported reductions in their drinking, so investigators began to assess if this was an actual effect and how it might be produced." (1)
Scientists are beginning to look into the neurobiological mechanisms that are set into motion when varenicline is administered. Varenicline is a partial agonist of the brain's nicotinic receptors, with reduced alcohol craving or consumption.
It was observed in the study the tobacco-craving reduction chemical varenicline increased effects such as nausea, heart rate, blood pressure after alcohol consumption. It was noted that despite controlling for the effect of nausea upon the subsequent response to a drink, the increased dysphoria and reduced "drug liking" after drinking alcohol remained significant.
As per Childs, "The pleasurable effects of alcohol, for example feeling 'buzzed' and talkative, are associated with greater consumption and binge drinking. Some people lose control of their alcohol consumption during a drinking episode, for example they may aim to only have one or two drinks but end up drinking say four or five." (2)
This is a great discovery since the chemical targets a niche segment -- that of people who abuse both nicotine and alcohol. This, incidentally, represents a large percentage of alcohol-dependent people.
The funds for the research were contributed by the National Institute on Drug Abuse and the National Institute on Alcohol Abuse and Alcoholism.
SOURCES:
1. Smoking Cessation Meds Shows Promise as Alcoholism Treatment, Study Suggests; Science Daily News; March 2012; http://www.sciencedaily.com/releases/2012/02/120215190138.htm
2. Smoking Cessation Aide Shows Promise As Alcoholism Treatment; The University of Chicago Medicine - Newsroom; March 2012; http://www.uchospitals.edu/news/2012/20120215-alcoholism.html
Technical report of the study may be accessed at:
1. Varenicline Potentiates Alcohol-Induced Negative Subjective Responses and Offsets Impaired Eye Movements; Alcoholism - Clinical & Experimental Research; March 2012; http://onlinelibrary.wiley.com/doi/10.1111/j.1530-0277.2011.01675.x/abstract
INFORMATION IN THIS ARTICLE IS NOT MEDICAL ADVICE. ALL INFORMATION GIVEN IS TO BE CHECKED WITH YOUR DOCTOR BEFORE IMPLEMENTING OR TAKING THEM AS STANDARD OR VERIFIED.
Mamta Singh is a published author of the books Migraines for the Informed Woman – Tips From A Sufferer: ISBN: 978-81-291-1517-1 (Publisher: Rupa & Co. URL: http://www.amazon.com/Migraines-Informed-Woman-Tips-Sufferer/dp/8129115174/ref=sr_1_2?ie=UTF8&s=books&qid=1298990756&sr=1-2), Mentor Your Mind – Tested Mantras For The Busy Woman: ISBN: 978-81-207-5973-2 (Publisher: Sterling Publishers; URL: http://www.amazon.com/Mentor-Your-Mind-Tested-Mantras/dp/8120759737/ref=sr_1_1?ie=UTF8&qid=1316063179&sr=8-1) and the upcoming Women's Complete Fitness Guide (Publisher: Hay House India).
She is also a seasoned business, creative and academic writer. She is a certified fitness instructor, personal trainer & sports nutritionist through IFA, Florida USA. Mamta is an NCFE-certified Holistic Health Therapist SAC Dip U.K. She is the lead writer and holds Expert Author status in many well-received health, fitness and nutrition sites. She runs her own popular blogs on migraines in women and holistic health.
Mamta holds a double Master's Degree in Commerce and Business. She is a registered practitioner with the UN recognised Art of Living Foundation. Please visit www.mamtasingh.com
Reviewed April 3, 2012
by Michele Blacksberg RN
Edited by Jody Smith
Tags: