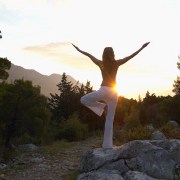 Photo: Getty Images
Maybe your stomach is churning in agreement over the many stresses life can lay on you: meeting deadlines, paying the bills, helping aging parents, fussing over your children, and so on.
An article in Everyday Health noted that the gut is often termed "the little brain" because it boasts the largest area of nerve connections outside your real brain. With all that neural activity and mind-body connection, digestive upsets are bound to happen. Peptic ulcers, trips to the bathroom, heartburn, stomach cramps and other joys of irritated digestion often ensue, thanks to stress.
Everyone can find stress-reduction tactics that work for them. If you need some new ideas on preventing stress-related stomachaches, though, here are five ideas to consider:
The practice of "mindfulness meditation" and its benefit to digestive problems has been in the news lately. Among the approaches being studied are gentle yoga postures and concentration on muscle relaxation in one body part at a time.
Positive thinking instead of pessimism enhances your health and well-being, according to a MayoClinic.com article. Recommendations include: learning to put a positive spin on things, identifying areas you can change, surrounding yourself with positive people and generally following a healthy lifestyle.
Those who follow Dr. Andrew Weil, a leading expert on alternative medicine, might be familiar with the breathing techniques he advocates as stress relievers. The techniques include ways to count your breaths, ways to exhale and inhale deeply and other methods to put internal tensions at bay. As Weil pointed out, the breathing exercises are simple and always available to you.
Physical activity can do wonders; find what works for you, whether it's walking, jogging, swimming, bicycling or playing outdoors with the little ones. A friend with a stressful job recently sang the praises of tai chi, which combines gentle, rhythmic movements and controlled breathing.
Sometimes there's nothing like a hot cup of herbal tea, and there are certainly many choices on the market. Popular brands usually include peppermint and/or chamomile, which are good bets.
Another consideration: Your stomach woes might well have causes beyond stress; it never hurts to discuss the issue with a health care practitioner.
Sources:
http://www.everydayhealth.com/digestive-health/the-gut-brain-connection.aspx
http://www.mayoclinic.com/health/positive-thinking/SR00009/METHOD=print
http://www.drweil.com/drw/u/ART00521/three-breathing-exercises.html
http://www.mayoclinic.com/health/tai-chi/SA00087
Reviewed July 13, 2011
by Michele Blacksberg R.N.
Edited by Alison Stanton
Tags: