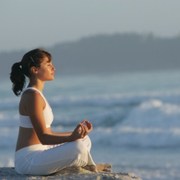 Photo: Getty Images
In the last blog I wrote about the definition of anxiety along with some of the most commonly diagnosed anxiety disorders. I explained that anxiety is one of the normal emotions that human's experience when it interferes with daily activities then it needs to be addressed. To treat anxiety, patients can use conventional or naturopathic or a combination of both to allow the patient to resume a normal and productive life.
Naturopathic approaches always revolve around treating the underlying cause of the problem. Mild to moderate anxiety symptoms can often be treated really successfully using natural treatments.
Some of the most effective approaches look at changing the neural patterns in the brain that trigger the anxiety thoughts. Natural therapies that have been successful in reducing the anxiety symptoms are Emotional Freedom Technique (EFT), Eye Movement Desensitization and Reprocessing (EMDR).
In all these techniques the philosophy behind their success is to change the way the brain processes stressful or anxiety-ridden thoughts so that when they are remembered the emotion attachment in no longer related to the thoughts. Thus the anxiety and anxiety symptoms are diminished.
Breathing techniques and guided imagery are very instrumental in helping to reduce the onset of anxiety symptoms. Deep breathing causes the body and mind to relax instead of becoming more involved in the cascade of body events that cause anxiety symptoms like feelings of apprehension or stress.
Believe it or not, nutrition can also reduce anxiety problems. B vitamins have been called the "happy" vitamins and they are used very quickly during times of anxiety or stress. Eating a diet rich in B vitamins or using appropriate supplementation can reduce anxiety symptoms.
Incorporating stress management techniques are also key to reducing anxiety symptoms for patients. Stress will trigger anxiety symptoms or make an episode worse.
Two conventional treatments used for anxiety are medications and psychotherapy. The medications that are prescribed depend on what anxiety disorder the patient has been diagnosed with. Medications usually fall into the categories of anti-anxiety or anti-depressant drugs. These medications usually take several weeks to become fully effective.
Psychotherapy is also known as talk therapy or psychological counseling. During the counseling sessions patients are able to talk through their stresses and create behavioral changes to reduce or eliminate those stresses.
When dealing with anxiety a combination of natural and conventional treatments can be a perfect way to reduce or eliminate anxiety symptoms or disorders.
Live Vibrantly,
Dr. Dae
Dr. Dae's website: www.healthydaes.com
Dr. Dae's book: Daelicious! Recipes for Vibrant Living can be purchased @ www.healthydaes.com
Dr. Dae's Bio:
"Dr. Dae" (pronounced Dr. Day) Daemon Jones is a Naturopathic Physician who treats the whole person using safe and effective combinations of traditional and natural methods to produce optimal health and well-being in the lives of her patients.
Sources:
"Anxiety - MayoClinic.com." Mayo Clinic. N.p., n.d. Web. 20 Oct. 2011. http://www.mayoclinic.com/health/anxiety/DS01187
"Anxiety - Medicinenet.com." MedicineNet.com. N.p., n.d. Web. 20 Oct. 2011. www.medterms.com/script/main/art.asp?articlekey=9947
"EMDR Institute, Inc.." EMDR Institute, Inc.. N.p., n.d. Web. 25 Oct. 2011. http://www.emdr.com
"Guided Imagery-Topic Overview." WebMD - Better information. Better health.. N.p., n.d. Web. 25 Oct. 2011.
http://www.webmd.com/balance/stress-management/tc/guided-imagery-topic-overview
Reviewed October 25, 2011
by Michele Blacksberg RN
Edited by Jody Smith