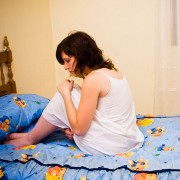 Photo: Getty Images
It is estimated that 40 million Americans cope with anxiety disorders every year. That's about 20 percent of the entire population or nearly 1 in 4 people, making anxiety disorders the most common mental illness in the United States.
Let's take a closer look at what Americans are coping with.
Further Facts about Anxiety
The Anxiety Disorders Association of America states the following facts:
• Anxiety disorders are highly treatable, yet only about one-third of those suffering receive treatment.
• Anxiety disorders cost the U.S. more that $42 billion a year, almost one-third of the country's $148 billion total mental bill ... more than $22.84 billion of those costs are associated with the repeated use of health care services ... for symptoms that mimic physical illnesses.
• Generalized Anxiety Disorder (GAD) affects 6.8 million adults and women are twice as likely to be affected as men.
• Hoarding is a common form of obsessive-compulsive disorder that involves the compulsive purchasing, acquiring, searching, and saving of items that have little or no value.
• About 6 million people suffer from a panic disorder, again, women twice as likely to be affected as men.
• About 7.7 million people are affected by Post Traumatic Stress Disorder with rape being the most likely trigger in 65 percent of men and 45.9 percent in women.
Seeking Medical Help to Cope with Anxiety
If your anxiety symptoms and thoughts are affecting your day-to-day life, you should really speak to your family doctor. It is important for you to find out what type of anxiety disorder is affecting you and to alleviate the overwhelming symptoms with medication or behavioral modification.
Each person will experience anxiety in different ways and not every treatment will be effective for everyone.
There is no reason why you need to be held prisoner by your fears and life situations.
Tips for Coping with Anxiety
Below are a few ideas for coping with anxiety and its symptoms on a day-to-day basis.
• Eat a well-balanced diet including a multivitamin and get enough sleep and exercise.
• Avoid alcohol and reduce or eliminate consumption of sugar and caffeine.
• Take time out for yourself every day doing something pleasurable. Watching TV or using the computer isn't always a good choice. Deep breathing, tai chi, yoga, prayer and meditation all have physical affects that relax the body.
• If you have a hectic schedule, it's time to cut back and avoid activities you don't find relaxing.
• Keep an anxiety journal. Note the events during which you felt anxious and the thoughts going through your head before and during the event.
• Spend time with friends or family just doing nothing. Just hang out. Organized activities are okay, but not necessary.
• Go for a walk in a place where you feel safe and can enjoy your surroundings.
• When a negative thought comes to you about a particular situation or person, coach yourself to think positive thoughts instead. This takes practice, but it is important to changing your perspective about the situation you're facing.
These tips for coping with anxiety are only meant to help you deal with the fear and anxiety at that particular time. They are not a cure and they may not, on their own, effectively manage your anxiety levels.
If you feel overwhelmed by fear of ordinary, everyday things, and of things that you once enjoyed doing, talk to your family doctor. Professional medical treatment or behavioral modification is the only way to permanently manage these conditions.
Sources:
Facts & Statistics. Anxiety Disorders Association of America. Web. Oct 27, 2011. http://www.adaa.org/about-adaa/press-room/facts-statistics
Managing Anxiety: Getting Started. Anxiety BC. Web. Oct 27, 2011. http://www.anxietybc.com/resources/introduction.php
5 Ways to Deal with Anxiety. KidsHealth.org. Web. Oct 27, 2011. http://kidshealth.org/teen/your_mind/emotions/anxiety_tips.html
Reviewed October 28, 2011
by Michele Blacksberg RN
Edited by Jody Smith
Tags: