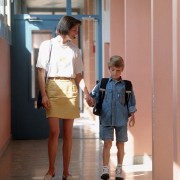 Photo: Getty Images
Jitters is an understatement. I lie awake in my bed with only the nighttime silence of my home to keep me company. My husband sleeps peacefully next to me, breathing softly. I cannot sleep. Tomorrow is my three year old's first day of school.
He is our youngest, the baby. He is an independent child but has never been in day care and I have been the biggest part of his days for his entire life. I dread that he will protest. I fear that he will cry. I am nervous for both of us.
The morning sunlight sneaks through the window blinds waking me from my short night's sleep. I open the blinds and peak outside. It is a beautiful day. A perfect day for the first day of school. If only my stomach wasn't in knots.
We have been talking this up for weeks. There is a new backpack and water bottle. He gets dressed in clothes that he can get dirty and new shoes he picked out himself. We drop off his brothers at school and drive to Desert Sun, a large ranch home that fifteen years ago was converted into a preschool/kindergarten.
Another child of mine is starting at Desert Sun Child Development Center. I love this preschool. All of my boys have gone there. I know all the staff and many of the parents. The parents that I don't know are friendly, smiling faces that I pass as I walk through the bright white gate. I know my child will be safe here. I know he will be happy. Still, as we approach the brightly decorated room, I can feel his hesitation.
The routine he is learning is familiar to me. He puts away his backpack and water bottle, gets his name tag from the wall and decides where in the room that he wants to play. There are fourteen other three year old children in his class. Some are friends that he already knows. We sit down at the play-doh table and begin to sculpt.
The preschool offers information on separation anxiety. Their biggest tips are:
Never sneak out.
Always give your preschooler an idea of when you will leave. (On their terms, like "after reading one more book.")
Reassure them that they are safe at school and tell them when you will return. ("I will be back at circle time when you sing songs.")
Prove that you feel they are safe at school by not wavering by their crying for you. When you say you are going to leave, leave. Stay firm. (However, this is the hardest part.)
So I agree to make one last play-doh heart and inform my son that after that, I am leaving. As soon as the heart is made, my son gathers all his sculptures into a large bulky lump, stands up and announces that he is going with me. Oh no. His teacher takes my cue and swoops him into her arms to help him say, "Bye Mom, see you in a little while." I blow one last kiss and avoid eye contact with my son as I quickly grab my purse and head out the door. As I close it behind me, I hear his wailing and screaming for me. Although I have been through this before, I cannot prevent it from breaking my heart. My eyes well with tears and as I lift my head to walk out to my car, I see other moms outside of the classroom. They offer sympathetic looks as I try to wipe away the tears that are streaming down my face. I practically run to the gate and see a good friend who offers more kind words. As embarrassed as I feel, it is not an uncommon reaction. Before leaving, another parent checks on my son for me and as I suspected, he is playing and having lots of fun without me.
Sweat drips down my back as I get in my car, start it up, and turn the air conditioning on full blast. A wave of relief runs through me. My son and I have both made it through the first day.
Edited by Jody Smith
Tags: