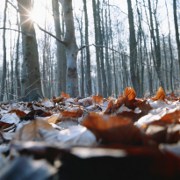 Photo: Getty Images
People who live with asthma should prepare for the fall season when asthma symptoms are often exacerbated. With cooler temperatures, changing leaves, and football overtaking most TVs during the weekend, fall also brings an increase in asthma issues. The rise in asthma problems can be caused by respiratory infections, changing weather patterns, and for children, being exposed to more viruses during the school year.
The Asthma Society of Canada issues tips for asthma patients based on the season, as it believes each season presents unique issues. On the website, 4seasonsofasthma.ca, the society states, "asthma symptoms often vary over time, due to different environmental triggers such as mold or pollen spores. Just like the leaves on a tree change, these triggers can be different throughout the four seasons of the year."
Pertaining specifically to fall, the website states, "Not only do the fall months bring discomfort to many allergy and asthma sufferers but it is compounded by the outdoor molds thriving in the damp environment created by falling and decaying leaves. Those who are allergic to both mold and fall pollen, such as ragweed, should monitor their symptoms closely and take preventative action."
The society encourages all patients to get a flu shot each fall, continue using controller medication and be aware of elevating allergen levels that may trigger an attack. It also suggests review of the patient's asthma action plan. The Centers for Disease Control has an asthma action plan template that works for both adults and children and can help anyone prepare for emergency situations.
A way to possibly help control seasonal asthma symptoms in the future is a drug specifically tested to give children relief from fall asthma triggers. The March 17, 2011 issue of the New England Journal of Medicine published a study that found the asthma medication omalizumab, which is usually prescribed for adults and adolescents with severe asthma who failed other treatments, can prevent children's asthma from worsening in the fall.
The study specifically looked at inner city youth ages 6 to 20 with persistent moderate to severe asthma disease. The results showed that the participants taking omalizumab had a 25 percent decrease in the number of days with asthma symptoms, 30 percent fewer asthma attacks, and 75 percent reduction in hospitalizations. The study found that omalizumab improved asthma control, almost eliminated seasonal peaks in exacerbations, and reduced the children's need for other medications to control their asthma.
The downside, as reported by MSNBC, is that the drug is very expensive, almost $1,000 per month, and even with insurance would be out of reach to most people, even if taken only during the relatively short fall season. More research on this medication is needed before it can become an option for the general public.
Asthma sufferers should prepare for seasonal changes in their disease this fall and make sure they are informed and ready for any increase in symptoms.
Sources:
Busse, W. et al. Randomized Trial of Omalizumab (Anti-IgE) for Asthma in Inner-City Children. N Engl J Med 2011; 364:1005-1015March 17, 2011. Web. 28, Aug. 2011.
Abstract: http://www.nejm.org/doi/full/10.1056/NEJMoa1009705
Drug may relieve kids' asthma in the fall. Allergies and asthma on msnbc.com, Web. 28, Aug. 2011. http://. www.msnbc.msn.com/id/42119444/ns/health-allergies_and_asthma/t/drug-may-relieve-kids-asthma-fall/
4 seasons of Asthma: Fall. Asthma Society of Canada. Web. 28, Aug. 2011.
http://www.4seasonsofasthma.ca/fall_intro.php
Asthma Action Plan. Centers for Disease Control. Web. 28, Aug. 2011
http://www.cdc.gov/asthma/actionplan.html
Reviewed August 29, 2011
by Michele Blacksberg R.N.
Edited by Malu Banuelos
Tags: