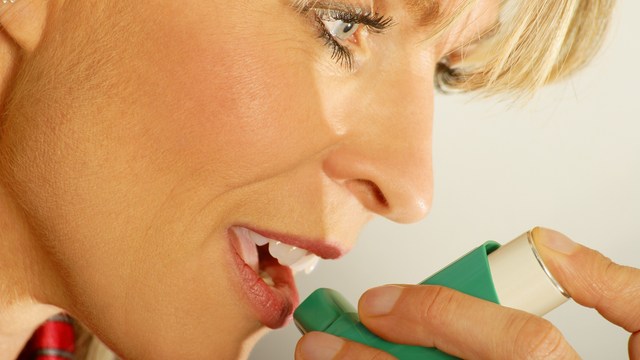 Design Pics/PhotoSpin
There may be a link between asthma and bone loss. The American College of Allergy, Asthma and Immunology reported in May, 2014 that this loss of bone mineral density may affect about 26 million asthmatic Americans.
Research was done on 7,000 participants. Of these, 433 had asthma, or airway hyperresponsiveness (AHR). It was found that bone density of the lumbar spine and femur was lower in those with asthma than in those in the control group.
Lead study author Jae-Woo Jung, MD said that it was already known that corticosteroids used for treating asthma can increase the risk for osteoporosis. However details of the connection between asthma and osteoporosis are not clear.
But the study indicated that there is a link between the conditions even when corticosteroids were not used. There is speculation that there are several possible reasons for this including race and low vitamin D levels. More research is needed.
The study was published in the May edition of the ACAAI's scientific journal Annals of Allergy, Asthma & Immunology.
Osteoporosis results when the body hasn't been manufacturing enough new bone to replace bone that has been reabsorbed by the body, according to MedlinePlus.
Osteoporosis is most common in older women. Loss of bone density makes bones fragile and more prone to fracturing. About 50 percent of women over the age of 50 will eventually fracture a hip, vertebra or wrist.
Estrogen levels dropping at and after menopause is a leading cause of bone density loss for women. For men, lowered testosterone levels is the primary cause.
Insufficient calcium and vitamin D levels can contributed to osteoporosis. Other known causes are some medications, some medical conditions and being confined to bed for an extended time.
PubMed Health describes asthma as a disease where airways of the lungs swell and narrow. This causes chest tightness, coughing, shortness of breath and wheezing.
Inflammation or swelling of the airways causes asthma attacks. The lining of air passages swell, and muscles around them tighten, so less air can move through airways.
Asthma can be triggered by allergens. Some are pet hair or dander, dust mites, some medications, weather changes, chemicals in food or air, mold, pollen, food, cigarette smoke, and exercise.
Attacks can be short or long, lasting minutes, or days, and can in severe instances be life-threatening.
You may recognize an asthma attack by several signs. Lips or face may turn blue. The patient may be confused or drowsy, and may perspire. Breathing becomes difficult. The pulse may quicken. There may be chest pain or tightness.
Breathing becomes noticeably abnormal. It takes twice as long to breathe out as to breathe in. Or breathing may stop temporarily.
Asthma can be a serious health problem. Despite the possible side effects of corticosteroids, allergist John Oppenheimer, MD, Annals associate editor and ACAAI fellow, he encourages people with asthma not to stop corticosteroid treatment, because it is still the most effective asthma treatment.
Sources:
Asthma sufferers may be prone to bone loss. Sciencedaily.com. Retrieved May 20, 2014.
http://www.sciencedaily.com/releases/2014/05/140501100928.htm
Asthma. NCBI.NLM.NIH.gov. Retrieved May 20, 2014.
http://www.ncbi.nlm.nih.gov/pubmedhealth/PMH0001196
Osteoporosis - overview. NLM.NIH.gov. Retrieved May 20, 2014.
http://www.nlm.nih.gov/medlineplus/ency/article/000360.htm
Visit Jody's website at http://www.ncubator.ca
Reviewed May 21, 2014
by Michele Blacksberg RN
Tags: