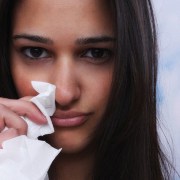 Photo: Getty Images
People with asthma have difficulty breathing. Catching a cold may seem to make asthma symptoms worse. So it may seem to be an appropriate step to try to boost your immune system to keep from getting sick or to keep symptoms of a cold or other illness to a minimum. But a new study conducted at the University of Michigan seems to indicate this may actually be a mistake for people who have asthma.
Asthma is a chronic condition that makes breathing difficult. During an asthma attack, the airways can become inflamed and swollen and produce extra mucus that clogs the air passages. At the same time the muscles around the airways can constrict which makes the airways smaller. All these things combine to make it hard for air to move in and out of the lungs.
The common cold is caused by a virus that affects the upper part of the respiratory tract. It causes symptoms including stuffy nose, nasal drainage, hoarseness, and a cough, as well as aches, fever, and overall tiredness. The immune system is the body's natural defense against bacteria and viruses that can make us sick. When the body senses foreign particles such as the cold virus, the immune system reacts to remove the particles to prevent illness. During this process, chemicals are released in the body that cause the runny nose and excess mucus that we associate with the common cold.
Many people react to a cold or to being exposed to a cold by trying to boost their immune systems. Some common sense steps such as getting plenty of sleep, exercising, and eating a well-balanced diet can be beneficial to overall health. However, the researchers at the University of Michigan believe using cold treatments such as cold remedies, fortified foods, and nutritional supplements designed to help the immune system fight the cold may actually make asthma flare-ups worse instead of better.
Using mice as study subjects the researchers concluded that asthma flare-ups were caused by the immune system reacting to the cold virus rather than by the virus itself. Medications that are intended to boost the body's ability to fight the cold virus tend to inflame tissues in the respiratory system to help clear out the virus. This leads to excess mucus which in asthma patients can cause a serious asthma flare-up including coughing and wheezing. When mice had a lower immune system response to the cold virus, they showed less inflammation and spasm in the airways even though they had a cold.
The cold virus is considered to be a "self-limited" illness that will run its course and go away if left untreated. The research team concluded that boosting the immune system to fight a cold can actually make symptoms worse, especially for patients with asthma.
Sources:
Science Daily
National Heart Lung and Blood Institute
Harvard University
Medicine Net
Reviewed July 5, 2011
by Michele Blacksberg R.N.
Edited by Alison Stanton