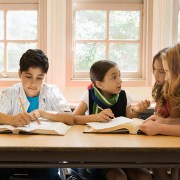 Photo: Getty Images
A new school year can mean new teachers, coaches, bus drivers, and even a whole new school environment. For parents of children with asthma, back-to-school time is the right time to make sure everything is in place to take care of any asthma emergencies before school gets under way.
The American Lung Association (ALA) shared this check-list to help parents keep their children healthy during the school year.
• Asthma action plan – Write down details caregivers should know to help take care of your child. Include symptoms of the start of an attack, medications, including how much and how often the medicine can be used, and any special restrictions that need to apply such as taking medications before exercising or limiting exercise if air quality is poor. Also include instructions on what to do if medications don't make symptoms better and how to tell if emergency help is needed.
• Get a checkup – Even if your child's asthma seems to be well controlled, back-to-school is a good time to check in with his/her doctor to make sure the asthma plan is up to date. This is also a good opportunity to talk about plans for the year such as playing sports or adding a musical instrument that may need special consideration.
• Avoid the flu – The flu can be even more dangerous for children with asthma. Take steps early to help your child avoid the flu by getting flu shots as soon as they are available. And don't stop with your child. Everyone in the family over the age of 6 months should get a flu shot to help keep the virus out of your household. For parents who wonder if a flu shot is safe for children with asthma, Dr. Norman H. Edelman, chief medical officer of the American Lung Association had this to say: "The good news is that research has shown conclusively that getting a flu shot does not trigger an asthma attack."
• Talk to teachers – Having a written asthma plan is important, but face-to-face contact with teachers, coaches and anyone else who will be responsible for your child is the best way to share important information. Schedule time with each of the key people in your child's school and make sure everyone has a copy of the action plan, including the school nurse, the front office, and people in charge of planning field trips and other activities.
• Know the school plan – Find out the common practices at your child's school if he/she has an asthma attack or needs medical attention. Make sure the office, teachers, and school nurse have up-to-date contact information so they can reach you. Ask if school staff has been to training so they know what to do during an asthma attack.
• Manage medications – Your child has the right to keep asthma medications with him in school, but there may be special paperwork you or your doctor need to fill out. Talk to the office or school nurse to find out what the policy is and make sure all paperwork is in place before the first day of school.
Planning ahead and making sure teachers and staff have all the information they need to take care of your child's asthma can help make the new school year a great year.
Sources:
American Lung Association
Medicine Net
Kidshealth.org
PubMed Health
Reviewed August 2, 2011
by Michele Blacksberg R.N.
Edited by Shannon Koehle