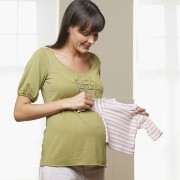 Photo: Getty Images
If you are a woman with asthma, you have special concerns if you are pregnant or intend to become pregnant. Asthma affects approximately 7 percent of pregnant women and is one of the most common serious medical problems during pregnancy. The good news is that by balancing your medications you can have a healthy baby and manage your asthma symptoms.
Asthma symptoms
Asthma is a condition that can make it hard for your body to get enough oxygen. When you breathe, air enters your lungs and is transferred from your airways to your blood. During an asthma attack, the muscles around your airways can spasm and contract, which makes your airways smaller. At the same time, the lining in the airways can swell and produce extra mucus which makes it even harder for air to enter your lungs.
Many people who have asthma know of certain things that can trigger an asthma attack. Some examples include allergens such as mold, pollens, animal dander, and dust mites. Stress, exercise, and infections are also possible triggers.
Asthma and you
Studies show that women with asthma have very different responses to becoming pregnant. Approximately one-third find that their asthma symptoms are worse, one-third have fewer symptoms, and one-third stay about the same as they were before they became pregnant. If your asthma is severe, chances are good your symptoms will be worse. Most women find that their symptoms ease up during the last four weeks of pregnancy. Women whose asthma is well-managed during pregnancy generally do not have serious symptoms during labor and delivery and most asthma patients are able to do Lamaze breathing during labor without difficulty.
Asthma and your baby
When you are pregnant, your baby gets all her nutrients and oxygen from your blood. If your asthma is out of control, you may not have as much oxygen in your blood as your baby needs. If her oxygen is too low, your baby may grow more slowly or have increased risk of life threatening conditions. Keeping your asthma symptoms under control can help ensure that you and your baby will have enough oxygen during your pregnancy. Having asthma does not place your baby at any increased risk of either spontaneous abortion or any congenital malformations.
Controlling your asthma
Maintaining control of your asthma means doing an even better job at all the things you normally do to avoid an asthma attack. This includes carefully avoiding any triggers such as allergens, cigarette smoke, pets, and stress. Many doctors encourage pregnant patients to increase their trigger avoidance so they can get by with lower doses of asthma medication while they are pregnant. There are asthma medications that are considered safe during pregnancy, including inhaled bronchodilators. Make sure your allergist or asthma doctor knows you are pregnant and discuss your medications with him. In general, having an asthma attack while pregnant is a greater risk for your baby than any possible side effects from your asthma medication. Do not stop taking asthma medications without instructions from your health care provider.
Sources:
American College of Allergy, Asthma & Immunology
American Academy of Allergy, Asthma & Immunology
Asthma and Allergy Foundation of America