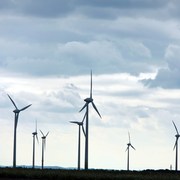 Erwin Wodicka/PhotoSpin
Wind energy, like other renewable energy forms such as solar and geothermal, are important to help wean America off the dependence on foreign oil.
Wind power is a free, non-polluting, renewable resource. There will be a plentiful supply in the future despite the demand.
According to experts, wind power has the potential to supply more than one and a half times the current electricity consumption of the United States.
Wind energy can also help keep the air clean. A single wind turbine can prevent the emission of up to 1,500 tons of carbon dioxide (CO2) into the atmosphere each year.
It would take 500 acres of forest land to dissipate the same amount of CO2. Higher levels of CO2 have been linked to increased asthma rates, especially in children.
Many experts agree that rising carbon dioxide emissions are causing plants to increase their pollen and spore production, which in turn worsens allergic diseases like asthma.
Wind energy can lower the amount of CO2 released in the air which may cause a decrease in pollen and therefore of asthma.
Not all experts agree on the correlation between rising CO2 rates and asthma, but more and more research, especially in the renewable energy field, is giving credence to this theory.
Those who are advocating for renewable forms of energy like wind believe they can improve air quality and overall public health as well as mitigate climate change.
But there are those who are working against furthering wind farms because of the sound of the wind turbines and how the farms will affect property values.
In Wisconsin this month, the state Public Service Commission voted 2-to-1 against a proposal by a locally run company, Emerging Energies, to build a $250 million wind farm in St. Croix county.
The project was proposed to generate 102.5 megawatts of power from 41 turbines, and create enough energy to supply about 30,000 homes. It would have also created construction jobs to put up the turbines as well as permanent jobs to maintain the site.
In New Hampshire, a bill that would put a moratorium on all wind farm development in that state is getting people riled up on both sides of the issue.
At a recent hearing, opponents of the moratorium argued that it would reduce investments in the state and eliminate jobs. Supporters say that wind farms could reduce property values and need to be stopped until a more comprehensive energy plan can be created.
Supporters of wind energy may need to continue working to further the cause of renewable energy in the United States to reduce the amount of CO2 being emitted into the air. Most supporters, like the developer in Wisconsin, think each battle is a fight worth fighting.
Sources:
ForwardWI.com. Web. 20 February 2013. "Wind Energy".
http://www.forwardwi.com/sub165/Wind-Energy
JSOnline.com. Web. 14 February 2013. "Wind farm proposal rejected, developer plans another try".
http://www.jsonline.com/business/wind-farm-proposal-rejected-developer-plans-another-try-8u8plb7-191331141.html?ipad=y
WCAX.com. Web. 20 February 2013. "Many show up for wind farm moratorium bill in NH".
http://www.wcax.com/story/21285240/many-show-up-for-wind-farm-moratorium-bill-in-nh
WebMD.com. Web. Published 29 April 2004. "High carbon dioxide levels may up asthma rate".
http://www.webmd.com/asthma/news/20040429/high-carbon-dioxide-levels-may-up-asthma-rate
Reviewed February 21, 2013
by Michele Blacksberg RN
Edited by Jody Smith
Tags: