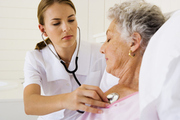 Photo: Getty Images
It's always amazing to me how you can sit down to a meal with your spouse, significant other or best girlfriend, and eat the same foods, in about the same portions, only to find that you gained five pounds while your best girlfriend gained nothing. Your husband, of course, lost three pounds eating the same meal! This phenomenon is one of the great mysteries of life!
Why some people gain weight while others remain slim on the same diet is only one food mystery. Have you ever noticed how some people develop heart disease while others enjoy clear arteries and are heart disease free even though they eat a diet that is substantially similar? The different result is most often simply determined by having either "good" or "bad" genes. While genetic makeup certainly plays a role in the development of heart disease, researchers at the Cleveland Clinic report that genes alone do not tell the full story when it comes to heart health.
According to the study's lead author, Stanley Hazen, M.D., Ph.D.(Head of Preventative Cardiology & Rehabilitation, Staff member: Lerner Research Institute's Department of Cell Biology, and Heart and Vascular Institute Department of Cardiovascular Medicine), the way we metabolize "gut flora" impacts whether or not we are at risk of developing heart disease, irrespective of our genetic makeup (Lerner 1). Found within the intestinal tract, gut flora is composed of bacteria and other microscopic organisms. Gut flora is essential to maintaining a healthy immune system and fighting disease, and is the mechanism by which essential nutrients are absorbed (Gut Flora 1). According to Hazen, "Gut flora is a filter for our largest environmental exposure -- what we eat." (Lerner 2)
As a part of the study, researchers examined clinical data obtained from more than 1,800 patients as well as animal test results. Researchers found that gut flora metabolized a lecithin and choline. Once metabolized by gut flora, researchers observed an increase in the formation of atherosclerosis (plaques or fatty deposits in arteries) in mice, which is a major cause of heart disease. As with mice, higher than normal levels of choline and lecithin in humans were also associated with an increased risk of atherosclerosis and heart disease. The presence of choline, trimethylamine N-Oxide (TMAO) and betaine (metabolites of lecithin) were all found to promote an increased risk of heart disease.
Choline is found in common foods (baked goods, liver, fish, eggs, cheese), supplements and vitamins (including B complex vitamins and children's vitamins). All three - choline, betaine and TMAO - are also commonly available and promoted as supplements that promote weight loss and build muscle. In addition, these are regularly fed to livestock (including beef cattle, fish and poultry) to help them grow faster.
According to Hazen, a blood test for TMAO can help identify those who are at greater risk for heart disease. He also indicates that this opens up "new opportunities for improved diagnostics, prevention and treatment of heart disease." (Lerner 3)
Sources:
Lerner Research Institute (2011, April 6). Common dietary fat and intestinal microbes linked to heart disease. ScienceDaily. Retrieved April 10, 2011, from http://www.sciencedaily.com/releases/2011/04/110406131814.htm
Barbara Bradley Bolen, PhD., Gut Flora, About.com Guide, 19 July 2010, http://ibs.about.com/od/glossary/g/gutflora.htm