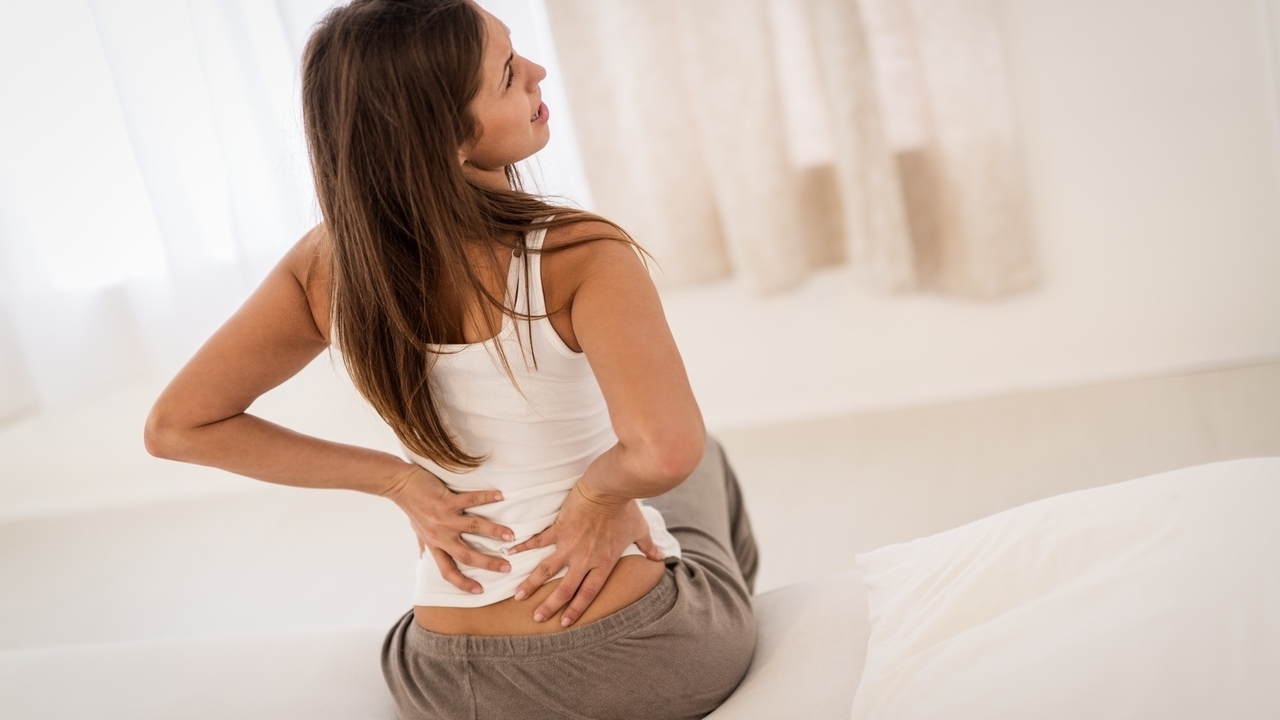 milanmarkovic78/Fotolia
Back pain has become a fairly common event for many of us. It is estimated that 60 to 80 percent of us will experience back pain at some time in our lives. (1)
"In 2007, approximately 27 million adults, or 11.9 percent of adults age 18 and older, reported having back problems and approximately 19 million adults reported receiving treatment for the back problems," said the Agency for Healthcare Research and Quality.
That means that about 70 percent of adults have had back pain severe enough to seek some type of medical help. Looking for ways to help relax your back and strengthen it before you have a problem is a good plan.
As a longtime sufferer of back pain, I cannot emphasize enough that if you already have back issues, you should not start doing exercises or stretches that are advertised on the cover of popular magazines or that your neighbor swears by for her back pain. Her back problems and yours may not be the same.
If you are a regular back pain sufferer, then seeing a physical therapist who can evaluate you is the best way to start. Many states allow you to see a PT without a doctor's prescription for one month, though you should check with your insurance to see if they will reimburse visits without one.
However, for a single personal evaluation visit, it may be worth the visit, even if you have to pay out of your pocket.
Check out the American Physical Therapy Association website and go to the "Find a PT" tab where you can locate the one closest to you according to specialty. Select Musculoskeletal and/or Fitness and Wellness boxes.
Below are stretches to help keep the back loose which are often on the menus of any person who has back pain.
1) Lie on your back on the floor
Elevate your legs on chair or on a bolster. Stay in this position for 15-20 min.
On her blog , Alexander Technique instructor Imogen Ragone discusses how helpful this stretch can be. She writes that it is very important to have a little elevation under your head, but I have done this stretch many times without one, so do what feel best to you.
2) Pelvic tilt
Pelvic tilts enable you to gently and safely move and stretch the muscles in your lower back. You can see what a pelvic tilt is like at the Northern Arizona University website.
1) Lie on your back with knees bent and feet flat on the floor.
2) Exhale and press the small of your back against the floor.
3) Hold for 15 seconds.
4) Return to the starting neutral position.
Repeat for a total of 10 times.
3) Child's pose
Child's pose is a beginning yoga move done by kneeling on the floor with your feet close together and your knees separated, based on comfort. Some people keep their thighs close together and others more widely apart.
See a photo here.
Reach your arms forward in front of you to stretch out along the floor and lean your head down so it touches the ground. Child's pose stretches the muscles of your lower back, upper back and inner thighs.
It may be helpful to use pillows for support under your head or belly, or between your thighs to give you more support.
4) Piriformis Stretch
The piriformis muscle is a deep muscle in the buttock responsible for stabilizing and laterally rotating the hip. There is a condition called piriformis syndrome where it is thought that the piriformis muscle tightens against the sciatic nerve and causes pain in the buttocks that may radiate down the leg.
The lying down version of this stretch shown here to stretch the piriformis allows you to really relax everything else. Try this one before the other versions described.
Piriformis syndrome has been mistaken for sciatica which is caused by spinal compression and inflammation of the sciatic nerve. (6) So if you find your back pain improves with this stretch, then tell your doctor so he can better guide your back pain management.
If any of these stretches give you discomfort, then hold off and see your doctor or physical therapist to discuss your individual needs.
Sources:
1) Back Pain Statistics. About.com. Retrieved April 20, 2016. http://backandneck.about.com/od/medication/a/Back-Pain-Prevalence-And-St...
2) Back Problems: Use and Expenditures for the U.S. Adult Population, 2007. MEPS AHRQ.gov . . Retrieved April 20, 2016 http://meps.ahrq.gov/mepsweb/data_files/publications/st289/stat289.pdf
3) Lying Down for Back Pain Relief. Imogen Ragone.com. http://www.imogenragone.com/lying-down-for-back-pain-relief/
4) Yoga for Back Pain - Child's Pose. By Anne Asher, CPT Back & Neck Pain Expert. About.com. Retrieved April 20, 2016 http://backandneck.about.com/od/yogaforbackpain/a/childsposebackp.htm
5) Lying Piriformis Stretch. By Elizabeth Quinn Sports Medicine Expert. About.com. Retrieved April 20, 2016. http://sportsmedicine.about.com/od/flexibilityandstretching/qt/Lying-Pir...
6) Physical Medicine and Rehabilitation for Piriformis Syndrome. Medscape.com. Retrieved April 20, 2016. http://emedicine.medscape.com/article/308798-overview
Michele is an R.N. freelance writer with a special interest in woman's healthcare and quality of care issues.
Edited by Jody Smith