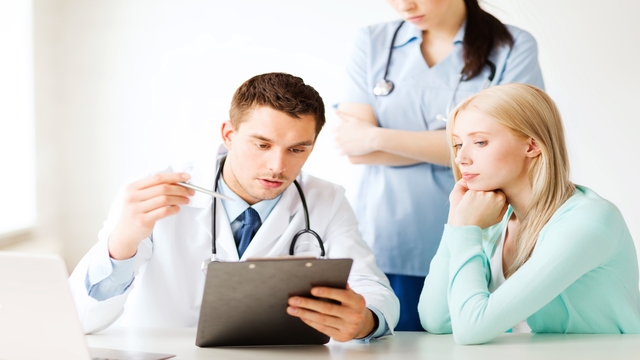 Lev Dolgachov/PhotoSpin
The Centers for Disease Control and Prevention estimated that in the United States, about 21.2 million women, or 29.2 percent, have bacterial vaginosis.
It is the most common type of vaginal infection among women of childbearing age, according to the U.S. Department of Health and Human Services.
This type of infection results from an overgrowth of bacteria in a woman's vagina. The bacteria in the vagina can be divided into the two groups, lactobacilli and some harmful bacteria called anaerobes.
When there are too many anaerobes in the vagina, compared to the "good" bacteria lactobacilli, bacterial vaginosis can occur, according to the American Academy of Family Physicians.
Why an overgrowth of anaerobes occurs is not completely known. But participating in certain activities can make it more likely for bacterial vaginosis to occur.
Certain sexual practices can increase a woman's risk of developing bacterial vaginosis. For example, having multiple sexual partners or having a new sexual partner can increase the risk of getting bacterial vaginosis.
The reason for this increased risk is not completely clear. However, the infection is more common among women who are sexually active, noted the U.S. Department of Health and Human Services.
Sexual intercourse is not the only risk factor for bacterial vaginosis, as women who have never had sex may develop the infection. Birth control and genital hygiene can also affect a woman's risk of developing bacterial vaginosis.
Douching may increase a woman's risk, as can using an intrauterine device. But the lack of birth control may increase the risk as well. Not using a condom may make it more likely for a woman to develop bacterial vaginosis.
Some of the risk factors for bacterial vaginosis are genetic and cannot be controlled. For some women, their vaginas naturally do not produce enough lactobacilli bacteria.
As a result, they are at higher risk for having bacterial vaginosis. The MayoClinic.com added that black women have a higher risk for bacterial vaginosis than white women.
While several activities can increase a woman's risk for bacterial vaginosis, coming into contact with certain objects do not increase the risk.
For example, a woman cannot get bacterial vaginosis from toilet seats or bedding. The infection cannot be contracted from touching nearby objects or from being in a swimming pool.
References
Centers for Disease Control and Prevention. Bacterial Vaginosis – CDC Fact Sheet. Web. 18 June 2012.
http://www.cdc.gov/STD/bv/STDFact-Bacterial-Vaginosis.htm
MayoClinic.com. Bacterial Vaginosis. Web. 18 June 2012.
http://www.mayoclinic.com/health/bacterial-vaginosis/DS01193/METHOD=print
U.S. Department of Health and Human Services. Bacterial Vaginosis Fact Sheet. Web. 18 June 2012.
http://www.womenshealth.gov/publications/our-publications/fact-sheet/bacterial-vaginosis.cfm
American Academy of Family Physicians. Bacterial Vaginosis. Web. 18 June 2012.
http://familydoctor.org/familydoctor/en/diseases-conditions/bacterial-vaginosis.printerview.all.html
Centers for Disease Control and Prevention. Bacterial Vaginosis (BV) Statistics. Web. 18 June 2012.
http://www.cdc.gov/std/bv/stats.htm
Reviewed June 19, 2012
by Michele Blacksberg RN
Edited by Jody Smith
Tags: