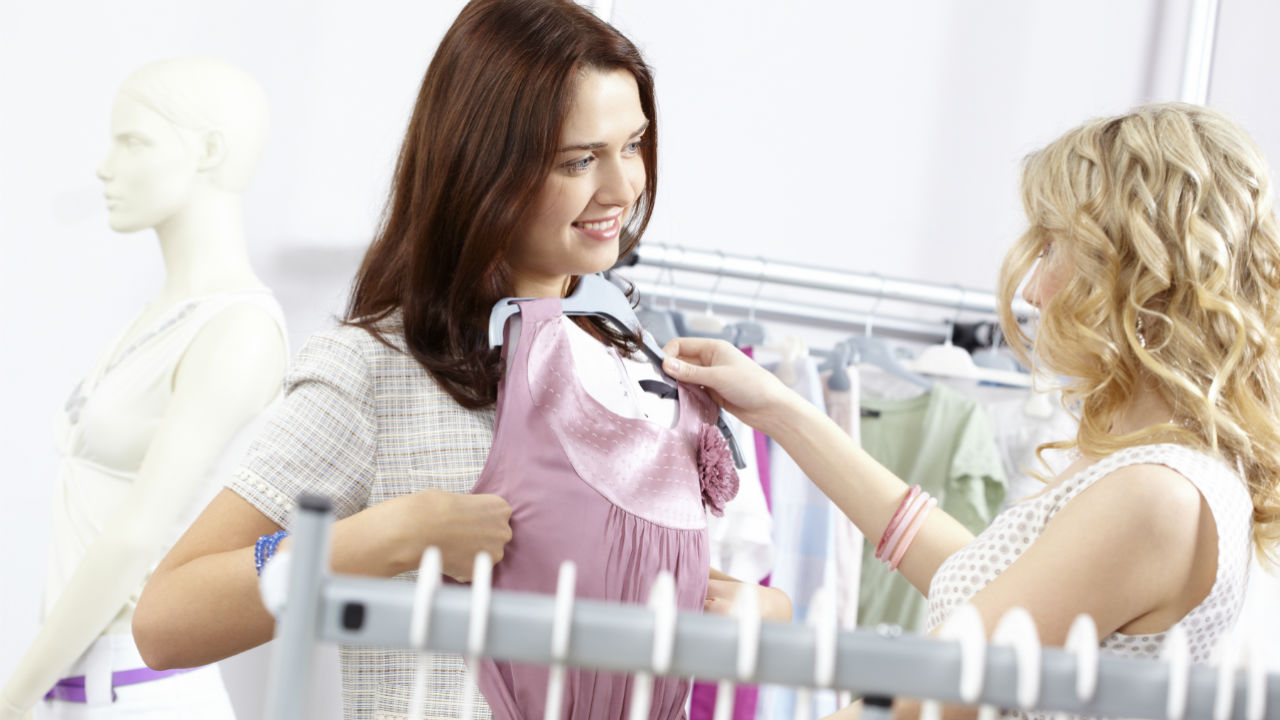 MonkeyBusiness Images/PhotoSpin
Do you struggle with weight gain or getting rid of those problem areas?
Diet and exercise can't promise overnight success for weight loss and firming your body.
But, while you're working on it, check out these fashion tips to help magically slim you down, no workout needed.
1. Ban Supersized Tops
When Mayor Bloomberg prohibited supersized drinks in New York City, Donna Karan should have done the same with oversized shirts. Wearing a top a size or two bigger may hide plumper spots, but it doesn't help you look thinner.
Instead, opt for tops with asymmetrical or poncho-style hemlines to hide the belly and ¾ length sleeves for heavy arms.
2. V for Vertical
Wearing a v-neck blouse draws the eye up towards shoulders and neck and away from the tummy. The V can also slim a chubby face and lengthen a short neck. Vertical stripes are also very slimming. Up and down ruffles, seams, piping or any vertical pattern can elongate your figure.
Horizontal stripes might be in style right now, but trendy is a glamour-don't when you're carrying a few extra pounds.
3. Movable Flare Pants
Go for trouser jeans designed with roomy legs for a look that's long and lean from waist to hem. Avoid stiff fabric by choosing pants with movement to extend your figure with flowing curves and length.
Sorry ladies, but capri pants are made for comfort and do not flatter a short and stout body.
4. Balance Body Proportions
Hippy or pear-shaped women should go for detailing on the upper body such as flutter sleeves and boat necks. Busty women need to keep it simple. Think "Joan Holloway" on Mad Men.
5. Stretch the Hemline
If you're only 5 foot nothing and a bit chunky, mini-skirts are a no-no for even those women with great legs. Mid-knee might work, but can also chop you in half for a shorter, weightier look. Mid-calf or longer can create a lengthier look, but only if you can find petite length, or hem the hemline.
Shopping secret -- Bring an honest friend and try on everything.
6. Solids vs. Prints
Wearing a solid, darker color from head to toe is a good way to slim it down, but a well-placed print to off-set wider areas is a great trick, too. Think dark background.
7. Trim-Me Heels
Wearing heels will definitely create a taller, leaner image, but let's not get ridiculous. Leave 5-inch stilettos for the girls with strong ankles. Also, forget the ankle straps. They make legs look shorter and fatter.
Accentuate leg length with skin-tone or taupe-colored shoes, with a slim heel and reasonable height.
8. No-Fat Accessories
Did you know that a watch with a rectangular face is more slimming than a round one? A thin watchband or bracelet creates a longer arm, too, so back away from the cuff style no matter how cute.
An attention-grabbing necklace will emphasize a slender collarbone, but again, avoid chokers and bulk around a short neck.
9. Un-Flabby Fabrics
When you shop for a slimmer you, get to know materials that are best for slenderizing. Gabardine and stretch cotton cover much better than flimsy fabrics. Even in hot weather, you're better off with cotton that breathes instead of nylon.
10. Flexible Shapewear
Nowadays shapewear is made for every size, figure, and problem spot on your body. And believe it or not it's comfortable. Unlike the old girdles of the '60s that used to cut off your circulation, the latest shapewear is expertly manufactured to help everything from thunder-thighs to tubby-tummy.
Invest wisely. The good ones are pricey and going cheap is ... well ... let's just say, you get what you pay for.
Sources:
7 Slenderizing Fashion Strategies. Oprah.com. Web. 05, September, 2012
http://www.oprah.com/style/How-to-Dress-Slimmer-and-Avoid-Looking-Fat-Fashion-Advice
How to Shop and Dress Thinner. Goodhousekeeping.com. Web. 05, September, 2012
http://www.goodhousekeeping.com/beauty/fashion/shop-and-dress-slimmer#category2-8
Donna Karan's Slimming Style Secrets. Health.com. Web. 05, September, 2012
http://www.health.com/health/gallery/0,,20313654_2,00.html
Dress 10 Pounds Slimmer. Oprah.com. Web. 05, September, 2012
http://www.oprah.com/style/Summer-Dresses-That-Make-You-Look-Thin-Fashion-Makeovers
Edited by Jody Smith