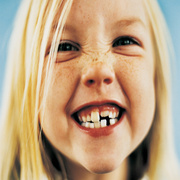 Photo: Getty Images
Americans spend billions on cosmetic dentistry each year. Teeth straightening, whitening and veneers are just some of the solutions for imperfect teeth. These methods, however, are merely cultural because in countries like Japan, people do the opposite to "enhance" the appearance of their teeth.
In Japan, Yaeba, meaning snaggleteeth, is a sought-after look. There, instead of utilizing teeth straightening devices like braces to correct teeth crowding, people who don't have Yaeba resort to cosmetic dentistry for the youthful look.
"Very few people have perfect teeth alignment. However, most problems are so minor that they do not require treatment," according to Medline Plus. Yet many people opt for methods to correct malocclusion (imperfect alignment of teeth or bite).
Orthodontia, or braces, is common for treating malocclusion but for something that aims to make smiles prettier, it sure isn't. Though braces no longer consist of the unattractive headgear of the past, today's version still seems to do the opposite that it claims to do, which is make teeth look better. Additionally, braces have to be worn for years depending on the severity of teeth irregularities and the person's age.
Another counteractive cosmetic procedure is whitening perfectly healthy teeth. Whitening products can contain bleaching products that change the natural color of teeth. There are also non-bleaching alternatives used, which do not whiten teeth but remove stains on the teeth's surface, according to the American Dental Association (ADA).
But bleaching teeth is purely cosmetic. Teeth that are yellow could be caused by several other factors like smoking, drinking coffee, poor dental hygiene, medications and genetics, according to WebMD.
Teeth whitening processes can have side effects like tooth sensitivity, occasional irritation of the soft tissues in the mouth, particularly the gums and, though rare, irreversible tooth damage has been reported, according to the ADA.
And when people can't seem to get the desired effect for their teeth, there are veneers, which "are wafer-thin, custom-made shells of tooth-colored materials designed to cover the front surface of teeth to improve your appearance," according to WebMD.
Through veneers, people can reach the desired color, size or shape of their teeth but one thing to note is that application is "usually an irreversible process, because it's necessary to remove a small amount of enamel from your teeth to accommodate the shell," According to ADA.
Before judging the "absurd" customs of other countries, remember that we have our own and they don't always make all that much sense either. Remember that we have things like diamond-studded teeth, after all.
So if you want to fix your "imperfect" teeth but don't have the funds, hold off, maybe other countries' trends will spill over into yours.
Sources:
Dental Health and Veneers. WebMD. Web. 26, Oct. 2011.
http://www.webmd.com/oral-health/veneers
Tooth Whitening. American Dental Association. Web. Web. 26, Oct. 2011.
http://www.ada.org/2754.aspx
Malocclusion of teeth. Medline Plus. Web. Web. 26, Oct. 2011.
http://www.nlm.nih.gov/medlineplus/ency/article/001058.htm
Reviewed October 27, 2011
by Michele Blacksberg RN
Edited by Jody Smith