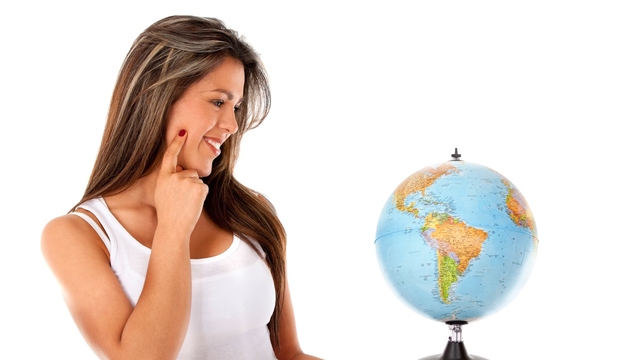 Andres Rodriguez/PhotoSpin
Do you do things to try to make yourself more beautiful? Most of us would answer yes. But what those things are can vary dramatically depending on where in the world we live.
The United States has been called the plastic surgery capital of the world as American women turn to medical science for clearer, more youthful skin through Botox and chemical peels, change their breast size through augmentation surgery, and opt for liposuction to lose fat.
But people in other countries around the world often have a different focus when it comes to beauty.
Where in the world would your personal look be seen as most beautiful? Check out these beauty standards from around the world.
• Hour-glass figure
Women in Brazil are known around the world for their beautiful figures. Although a "guitar-shape" figure which featured larger hips and behind was once the standard, many women in Brazil are now adopting a thinner, more Americanized standard of beauty.
• Lean
Women in France believe being very thin is chic.
• Full-figured
At the opposite extreme from the French, women in parts of western Africa are believed to be more beautiful when they are overweight, especially if they have stretch marks.
To help their daughters achieve this kind of beauty, parents at one time sent their girls to camps where they were fed more than 10,000 calories a day to help them gain weight.
• Simple beauty
Women in France prefer to show off their natural beauty. They may wear little makeup, but spend substantial sums on products to bring out the natural beauty in their skin.
• Pale skin
Asian beauty often focuses on having a smooth, pale complexion. Historically, women from wealthy families had pale skin because they did not have to work outdoors in the sun.
Japanese women today protect their skin from the sun's harmful UV rays to maintain the beauty of pale skin. In China, Southeast Asia and Thailand it is often hard to find beauty products without whitening agents.
• Straight hair
Women in Japan also value straight hair. Many hair straightening products and devices such as flat irons originated in this country.
• Nose perfection
Iran has been called the nose job capital of the world. Both men and women in Iran turn to rhinoplasty to improve their looks and display their social status.
Many people are so proud of having had nose surgery that they continue to wear bandages on their noses for longer than needed. Some even choose to wear bandages despite not having had surgery.
• Tattoos
Facial tattoos known as "moko" are part of a sacred beauty ritual for both men and women in the Maori culture on the Polynesian island of New Zealand.
• Long neck
Having a long neck is the height of beauty in Burma in Southeast Asia. Starting at a young age, girls in Burma wear brass rings or coils around their necks from their shoulders to their chins. Rings are added as they get older to stretch their necks and increase their beauty.
• Long legs
Being tall is a big plus in China. Both men and women who are not happy with their natural height may choose to have a painful leg-lengthening procedure to gain a few inches. MAny believe being taller is a sign of status and is necessary to be successful in life.
Sources:
EmpowHER. Beauty Around the World: In The Eye of the Beholder. Erin Kennedy. Web. January 18, 2015.
https://www.empowher.com/beauty/content/beauty-around-world-eye-beholder
StyleList. Beauty Around the World: Traditions and Ideals. Web. January 18, 2015.
http://www.stylelist.com/view/beauty-around-world-traditions-and-ideals/#!fullscreen&slide=21426
Reviewed January 29, 2015
by Michele Blacksberg RN
Edited by Jody Smith