Many people hold the misconception that breast implants are most common among celebrities and super models. However, breast augmentations are also popular among everyday women.
Breast augmentation is the most common plastic surgery procedure in the United States. Breast augmentation, also called augmentation mammaplasty, involves surgical placement of an implant behind each breast to increase its volume and enhance its shape. Implants are inserted through an incision - usually made just above the breast crease, around the pigmented skin surrounding the nipple, or in the armpit - and placed into a "pocket" created by the surgeon behind the breast tissue or the chest muscle. Breast augmentation is requested to add volume to small or underdeveloped breasts, or to restore volume lost as a result of weight loss, childbirth, or aging.
Two women speak out about their motivations for breast augmentation. Research shows that the typical breast implant patient is a woman in her 30's a couple of kids who has seen her breasts sag and lose volume after childbirth. The typical breast implant patient wants to look better and feel better about herself.
The availability of FDA-approved silicone gel implants will create new options for women considering breast surgery for the first time and for those who have had previous surgeries but are seeking new replacements or revision. Now, all women over 22 years old seeking cosmetic breast augmentation and women seeking breast reconstruction surgery are able to select silicone breast implants.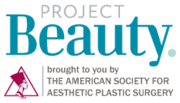 About Us
Two years in the making. Extensive market research and testing. A goal to become THE beauty sites for all consumers interested in self-improvement. Project Beauty has the backing of one the leading medical authorities in Beauty - The American Society for Aesthetic Plastic Surgery.
But why does the world need MORE health and beauty information?
With the plethora of information out there, we have yet to find one source for all things beauty that is vetted through the leading authorities in their fields, that presents only safe and effective options and answers to 2200 board-certified plastic surgeons. That source is Project Beauty. Women and men have told us of their confusion: what treatments work? Which don't? How can we tell if a product is legitimate or just marketing hype?
Project Beauty cuts through the clutter.
What about beauty news? What are the latest trends, fashions, beauty treatment options?
Project Beauty draws from experts as diverse as Steven Rice, of Samuel Shriqui Salon to Lisa Young, Ph.D., R.D., C.D.N. a nationally recognized nutrition consultant who has been counseling adults and children for more than 15 years. Instead of giving up the foods you love. If you're looking for fashion, news and beauty treatments, we've got you covered.
But isn't this just a plastic surgery site?
A resounding NO! Although brought to you by the world's leading medical society for cosmetic surgery, NO doctors are featured on our site, NO inference is made to pursue plastic surgery options and No revenues are derived by physicians. Our Advisory Boards include experts from the entire spectrum of health and beauty.
So why Project Beauty?
Our community members and the public DESERVE real and accurate information. Hippocrates has us promising to a higher authority. It is our Mission and pledge to fulfill that promise in an entertaining and informative way.
Tags: