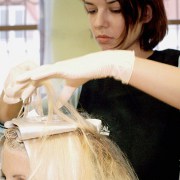 Photo: Getty Images
At my hair salon recently, I noticed a newspaper clipping scotch-taped to the counter. The headline referred to the dangers of Brazilian hair straighteners. I didn't pay much attention to it because I don't have my hair straightened.
However, above the headline, there was a hand-printed note in black marker that said, "This is why our hair salon doesn't use Keratin!" Curious, I asked my stylist about it and she gave me the scoop.
Apparently, Brazilian style, hair-straightening products are bad for the health. Not necessarily the customer who's getting the treatment, but the stylist who is performing the service.
WebMD reported, "The FDA has warned the Brazilian Blowout hair care company that its hair straightening products contain 'dangerously high levels' of formaldehyde. It ordered the firm to reduce levels of the liquid chemical or face removal of the items from the marketplace."
Formaldehyde is a chemical normally used by morticians for embalming their victims, er ... patients, well ... dead people. With that said, can you imagine having that applied to your hair, let alone, the poor stylist applying the stuff?
Don't get me wrong, I've had hair treatments in the past, perms, hair dye, etc., that were pretty darn hard on my eyes and nose as well as my stylist, but the idea of formaldehyde freaked me out a little.
The FDA has received a number of health issues as a result of the keratin-based straighteners including eye and nervous system disorders, respiratory tract problems, chest pain, vomiting, and rash.
The hair straightening process is well worth the cost for patrons who struggle with unruly curls and frizz. Customers can expect to pay anywhere from $250-450 for a treatment lasting 10-12 weeks. Unfortunately, some women may opt to ignore FDA warnings at the risk of giving up their beautifully processed straight hair.
Salon owners and stylists shouldn't have to worry about health issues as a result of their daily working conditions. And, as a result of the controversy, new and alternative hair-straightening products containing plant-based ingredients instead of formaldehyde are becoming available.
Farouk Shami, founder of Houston-based Farouk Systems has been working on an environmentally-safe straightening products for three years. He even consumed the product during a television interview to prove its authenticity.
"If you can't eat it, you cannot use it on people's bodies or hair," Shami said. "We are a company that believes in environmental issues and to save the lives of hairdressers, not to kill hairdressers with formaldehyde. Formaldehyde is for dead people, not for living people."
Remember this the next time you visit your favorite beauty salon for any type of chemically-based treatment. Show an interest in her/his health. After all, your stylist is a living person, too.
Sources and related reading:
WebMD - Healthy Beauty - FDA: Brazilian Blowout Hair Straightener Is Dangerous. Web. 13, October, 2011
http://www.webmd.com/healthy-beauty/news/20110907/fda-brazilian-blowout-hair-straightener-is-dangerous
MSNBC - Skin and Beauty - FDA warning tries to untangle Brazilian Blowout claims. Web. 13, October, 2011
http://on.msnbc.com/oQxt2V
LA Times - LAT Home→Collections→Formaldehyde - New treatments to smooth and straighten hair. Web. 13, October, 2011
http://articles.latimes.com/2011/oct/09/image/la-ig-brazilian-blowout-alternatives-20111009
Reviewed October 13, 2011
by Michele Blacksberg RN
Edited by Jody Smith