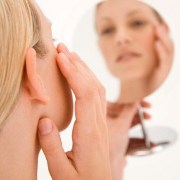 Photo: Getty Images
Late last month, the American Society of Plastic Surgeons (ASPS) issued conflict of interest guidelines for its members. The overarching goal of the new guidelines is to see that plastic surgeons are not unduly influenced by a manufacturer to use only their products (ASPS1).
Why Should You Care?
The ASPS created the guidelines to help ensure that patients get unbiased advice and recommendations from their plastic surgeons. For example, there are many facial fillers on the market nowadays: Restylane®, JuvedermTM and several others. The U.S. Food and Drug Administration has approved some for one particular use, but not others. And, whether used according to FDA approval status or "off label" (which can be okay in some cases), fillers can be optimal for one area of the face but not all.
When you go in for a dermal filler, you want to be sure the one chosen for you is selected for the right reasons, and not because your plastic surgeon has been wined and dined by the manufacturer. Juvederm, for instance, won FDA approval in 2006 to treat nasolabial folds, or the lines that run from the nose down to the mouth (Melkerson1). If your doctor suggests it for another use, you might want to ask a few questions.
What Should You Do?"Conflict of Interest Goals Tightened for Plastic Surgeons American Society of plastic Surgeons. April 28, 2011. Web. May 15, 2011.
http://www.plasticsurgery.org/News-and-Resources/Conflict-of-Interest-Controls-Tightened-for-Plastic-Surgeons.html
Melkerson, Mark N. Letter to Inamed Corporation. Department of Health and Human Services, Food and Drug Administration. June 2, 2006. Web. May 15, 2011. http://www.accessdata.fda.gov/cdrh_docs/pdf5/P050047a.pdf
Reviewed May 20, 2011
Edited by Alison Stanton