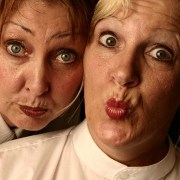 Photo: Getty Images
Shocking though it may seem, the manufacturer of Botox—the king of the non-invasive cosmetic treatments—may need to figure out how to do some defensive marketing one of these days. In a recent test, Dysport, another botulinum-based dynamic wrinkle fighter, has been shown in one study to be more effective than Botox at smoothing crow's feet.
As reported last week on ABC News's website, researchers led by San Francisco plastic surgeon Dr. Cory Maas tested Botox and Dysport literally side-by-side on the faces of 90 study volunteers. That is, one side of each person's face was injected with Botox, the other side with Dysport. According to Maas, this technique helped control variables related to individual physiological differences such as ethnicity and age. In the 30-day test, a majority of both the patients and their physicians felt Dysport yielded superior results (Conley 1).
The wrinkle-fighting injectable commonly referred to as "Botox," officially termed BOTOX COSMETIC® to differentiate it from Botox formulations for other uses, was approved by the U.S. Food and Drug Administration 15 years ago to treat vertical lines between the eyebrows (Goldenthal 1). Since then, the drug has been approved for a variety of applications, including treatment for migraines, excessive sweating and more.
The versatility and popularity of the various forms of Botox have earned Allergan, the manufacturer, well over a billion dollars a year (Gullo and Larkin 1). Nearly 2.5 million Botox treatments were administered in 2010, said the American Society for Aesthetic Plastic Surgery (ASAPS 1).
Medicis, the manufacturer of Dysport, received approval from the FDA to market the Botox alternative in the spring of 2009 (Investor Relations 1). While its impact on forehead wrinkles is similar to that of Botox, Dysport is an injectable based on a botulinum toxin encased in a different protein, therefore it behaves slightly differently than Botox. A quick scan of plastic surgeon feedback on RealSelf.com indicated that many have observed that Dysport acts more quickly than Botox and the effect is more widespread (RealSelf 1).
As to whether Dysport cost less, as some information sources indicated (Conley 1), there's no across-the-board answer. Some plastic surgeons said there is a slight cost advantage with Dysport; some said the two products are about the same (RealSelf 1).
The important thing for a consumer to know is that both are measured in units. Dysport units are priced lower, but more product is required. RealSelf member physicians put the cost of treating one area of the face with Dysport at about $250 to about $400, similar to the cost of Botox (RealSelf 1). To understand fully the prices quoted, patients need to ask what the per-unit cost of Dysport and Botox is and how many units of either would be required for the desired result.
So, is there a bottom line on this new study? And what should you do if you're considering treatment for dynamic wrinkles like crow's feet?
Medicis, the only one of the manufacturers that helped fund the study (Conley 1), is probably very pleased with the results. Allergan, on the other hand, pointed out some shortcomings of the test, including the relatively small sample group and limited observation period (30 days) (Conley 1). So, while the results of this study help confirm that Dysport can be considered a viable Botox alternative, a little more research shows there's no one right product to choose.
As with so many decisions patients must make about their health and well-being, there are two critical steps to take before choosing treatment. First, do some research on your options. Manufacturer websites, patient review websites and personal references are great places to start. Second, make sure you have a provider you can fully trust, preferably a plastic surgeon or dermatologist, to help you make the choices that are best for you.
References:
Conley, Michaela. Botox and Dysport Face Off on Crow's Feet. June 21, 2011. ABC News Internet Ventures. Web. June 24, 2011.
http://abcnews.go.com/Health/botox-dysport-face-off-crows-feet/story?id=13888299
Goldenthal, Karen L. Letter to Peter A. Kresel, Allergan, Inc. April 12, 2004. Department of Health and Human Services, Food and Drug Administration. Web. June 25, 2011. http://www.fda.gov/downloads/Drugs/DevelopmentApprovalProcess/HowDrugsareDevelopedandApproved/ApprovalApplications/TherapeuticBiologicApplications/ucm088278.pdf
Gullo, Karen, and Larkin, Catherine. Allergan Sues FDA to Market Off-Label Botox Uses (Update2). October 2, 2009. Bloomberg L.P. Web. June 25, 2011.
http://www.bloomberg.com/apps/news?pid=newsarchive&sid=aWfiFb74XVt4
American Society for Aesthetic Plastic Surgery. Cosmetic Surgery National Data Bank Statistics, Twenty 10. 2011. The Mark of Distinction in Cosmetic Plastic Surgery. Web. June 25, 2011.
http://www.surgery.org/sites/default/files/Stats2010_1.pdf
Medicis Investor Relations. FDA Approves DYSPORT(TM) for Therapeutic and Aesthetic Uses. April 30, 2009. Medicis Pharmaceutical Corp. Web. June 25, 2011. http://www.irconnect.com/mrx/pages/news_releases.html?d=164270
RealSelf (various participating plastic surgeons). Dysport Vs. Botox – What's the Difference? Web. June 26, 2011. http://www.realself.com/question/reloxin-vs-botox-whats-difference
Reviewed June 28, 2011
Edited by Alison Stanton