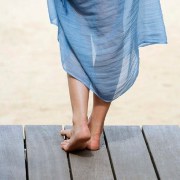 Photo: Getty Images
Spring is officially here, you've experienced the first hints of warm, fragrant breezes and the realization has dawned: it will be summer soon! If your next thought is something along the lines of, "OMG, how do I get my legs ready for shorts and skirts?" don't despair. There's time to transform your legs from winter weary to summer ready.
Here are some of the top treatments women consider for their legs this time of year.
Laser Hair Removal
Laser hair removal is a treatment many women choose to reduce hair growth on the legs during the warm months of the year. Most practitioners use a low-energy laser to zap hair while ensuring patient comfort (ASAPS 1). You can expect to need more than one session, as only hair in an active stage of growth will be removed.
Be sure to select a trained, credentialed professional for your procedure as laser hair removal is not risk-free. The pigment in your skin and hair needs to be taken into account for safe, effective treatment.
Spider Vein Treatment
Little red or blue veins on your legs, called "telangiectasias" in the world of medicine, can be rather easily reduced with a procedure called sclerotherapy. This involves injecting the veins with a liquid that causes them to become less visible or disappear altogether. More than one treatment may be needed because not all veins will respond the first time. And since the condition tends to be hereditary, you may need additional injections down the road (ASAPS 2).
Fat Removal
If you have isolated pockets of fat on your legs—perhaps bulges around your knees or saddlebags at your hips—you might want to try a new method of fat removal that's gaining fans across the country, CoolSculpting®. This treatment uses an applicator to cool fat cells non-invasively, causing them to die and eventually be eliminated by the body (Zeltiq Aesthetics, Inc. 1). While treatment isn't necessarily a bargain, it costs less than liposuction and involves no downtime.
Even if you don't decide to head to a cosmetic surgeon or a medical spa for one of these treatments, there are a couple ways to be good to your legs everyone should consider. First, use tanning cream rather than the sun to get a light bronze glow. Putting sunscreen on your face is a step in the right direction, but the skin on your legs ages just like the skin around your eyes and mouth. Be good to it.
Second, be sure to moisturize your legs often. They may not feel as dry and itchy as they do during a long, frigid winter, but legs still look and feel their best when skin is hydrated.
Bring on the shorts!
References:
American Society for Aesthetic Plastic Surgery (ASAPS). "Laser Hair Removal." The Mark of Distinction in Cosmetic Plastic Surgery®. April 21, 2011. Web. http://www.surgery.org/consumers/procedures/skin/laser-hair-removal
American Society for Aesthetic Plastic Surgery (ASAPS). "Spider Vein Treatment (Sclerotherapy)" The Mark of Distinction in Cosmetic Plastic Surgery®. April 21, 2011. Web. http://www.surgery.org/consumers/procedures/skin/spider-vein-treatment
Zeltiq Aesthetics, Inc. "For Immediate Release." CoolSculpting. April 21, 2011. Web.
http://global.coolsculpting.com/downloads/ZELTIQ-Consumer-FDA-Press-Release-Love-Handle-09.08.10-FINAL.pdf