Teneia decided to get a breast augmentation to look more feminine in her clothes and to build her self-confidence. Although she was at first nervous about the procedure, Teneia underwent the surgery and is very pleased with her results.
There are many reasons why women choose breast augmentation. These reasons may center around breasts that are perceived to be under-developed, or because of differences in the sizes of the breasts, or from changes after pregnancy or breast feeding. Some women may be happy with their breasts but just want them made fuller. Often after weight loss, aging or childbirth, a woman's breast volume and shape change.
In this video, Teneia explains her decision to have breast augmentation surgery, and why it was important for her to have the procedure performed by a board certified plastic surgeon. For Teneia, it was important that her breasts look natural, and her physician helped select the best size implants for Teneia.
Breast augmentation plastic surgery is one of the most common procedures performed by members of the American Society for Aesthetic Plastic Surgery, and is the most popular way to improve breast shape and size, giving women more proportional shape and improved self esteem.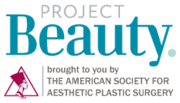 About Us
Two years in the making. Extensive market research and testing. A goal to become THE beauty sites for all consumers interested in self-improvement. Project Beauty has the backing of one the leading medical authorities in Beauty - The American Society for Aesthetic Plastic Surgery.
But why does the world need MORE health and beauty information?
With the plethora of information out there, we have yet to find one source for all things beauty that is vetted through the leading authorities in their fields, that presents only safe and effective options and answers to 2200 board-certified plastic surgeons. That source is Project Beauty. Women and men have told us of their confusion: what treatments work? Which don't? How can we tell if a product is legitimate or just marketing hype?
Project Beauty cuts through the clutter.
What about beauty news? What are the latest trends, fashions, beauty treatment options?
Project Beauty draws from experts as diverse as Steven Rice, of Samuel Shriqui Salon to Lisa Young, Ph.D., R.D., C.D.N. a nationally recognized nutrition consultant who has been counseling adults and children for more than 15 years. Instead of giving up the foods you love. If you're looking for fashion, news and beauty treatments, we've got you covered.
But isn't this just a plastic surgery site?
A resounding NO! Although brought to you by the world's leading medical society for cosmetic surgery, NO doctors are featured on our site, NO inference is made to pursue plastic surgery options and No revenues are derived by physicians. Our Advisory Boards include experts from the entire spectrum of health and beauty.
So why Project Beauty?
Our community members and the public DESERVE real and accurate information. Hippocrates has us promising to a higher authority. It is our Mission and pledge to fulfill that promise in an entertaining and informative way.
Tags: