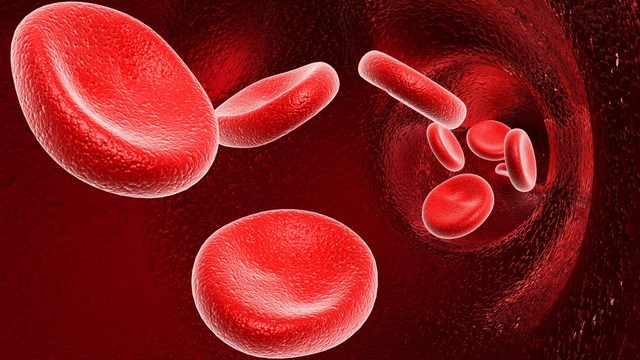 Divakaran Dileep/PhotoSpin
Once you feel that something is wrong, you already have it. Every four minutes, somebody is diagnosed with a blood cancer, and about every 11 minutes, somebody passes away from one.
That's why it is so important for medical professionals as well as people everywhere to become aware and educated about the various types of blood cancers, said Emily Marquez-Dulin. She recently joined The Leukemia & Lymphoma Society (LLS) as the Executive Director for Southern Florida and Puerto Rico.
She and Monica Alvarado, a 53 year-old survivor of leukemia, recently conducted a series of phone interviews as part of an LLS awareness campaign, aimed particularly at the Hispanic community. After seeing her doctor about a strange-looking spider bite and bruising in her arms and legs, Alvarado was given a diagnosis she says she would never have expected "in a million years."
Leukemia is cancer of the blood cells, and it starts in the bone marrow. As WebMD explains, there are different types of leukemia, and these groupings are organized based on the kind of white blood cell affected and how fast the illness gets worse. It can be acute, which means it progresses rapidly, or it can be chronic, which means it makes a patient feel sick much more slowly.
Acute lymphoblastic leukemia and chronic lymphocytic leukemia affect the lymphocytes, whereas acute myelogenous leukemia and chronic myelogenous leukemia affect the cells which become granulocytes (a type of white blood cell), platelets and red blood cells. There are also several other types of leukemia which are less common, such as hairy cell leukemia.
Not only are symptoms of these cancers very few and different in each case, but according to the Mayo Foundation for Medical Education and Research, blood cancer symptoms that do present in patients are also often dismissed as other more minor ailments like influenza or the common cold. This makes diagnosing and treating types of blood cancers a huge challenge.
Alvarado said that in addition, she also faced certain unique challenges as a Latina diagnosed with acute myelogenous leukemia (AML) in March 2004. She moved to the United States in 1971 from Colombia and now lives in Miramar, Florida.
She and her family were not informed about what the disease was, and LLS, which offers services to clients in both English and Spanish, educated them about what was happening to her. She became more prepared for the process with information about what options she had going forward and what to expect during the treatment process.
LLS also provided financial help during her treatment, for example, reimbursements of medical copayments, and put her in contact with another patient who had a similar diagnosis. This person was someone who she could relate to and who could provide advice and support. "And that was very helpful to me and my family," she said.
"The mission (of LLS) is to find a cure for leukemia, lymphoma, Hodgkin's Disease, and myeloma, and we do that through research, specifically, as well as we provide services to patients and their families," Marquez-Dulin said. The organization, which works hard every day to raise awareness, is funded through the generosity of donors.
One of their current campaigns, the "Someday is Today" campaign, stresses that cancer cures are just around the corner. "We're going to see them in our lifetime and we're going to see more people like Monica survive," Marquez-Dulin said.
In the interviews, Marquez-Dulin and Alvarado's mission was not just blood cancer education, but hope. Even though blood cancers are not preventable, research has caused large advancements in the fight against the diseases in recent years.
Leukemia is typically treated through chemotherapy and bone marrow transplants, Marquez-Dulin said, and Alvarado underwent both of these treatment approaches."There is hope and that's what we really want to deliver. And people like Monica really represent that," she said.
The research done by LLS continues to accomplish great things for those diagnosed with blood cancers. Marquez-Dulin was pleased to report that they had just received approval from the FDA for a new drug to treat leukemia.
She also went on to describe another recent advancement in treatment of chronic myelogenic leukemia in particular: a pill taken daily by patients that has already shown to be quite effective in treating this particular form of the disease.
Alvarado said that she would tell anyone who had just been diagnosed with one of these conditions to get informed about the disease, and to have a positive attitude. She wants others out there to know that her successful treatment story is not an anomaly, and that other patients in her situation have a great chance of recovery.
"Cancer is not a death sentence. It's actually a challenge and I took that challenge, and I was able to do well," she said.
Both Marquez-Dulin and Alvarado urged the importance of seeing a doctor if you experience any unexplained symptoms or changes in the body.
For further information and resources about blood cancers, The Leukemia & Lymphoma Society can provide information and services through their website: www.lls.org (for Spanish users, www.lls.org/espanol), in-person, or through their bilingual toll-free phone line: 1-800-955-4572.
Sources:
Phone Interview with Alvarado, M. and Marquez-Dulin, E. March 10, 2014.
Leukemia Symptoms. Mayo Foundation for Medical Education and Research., Web. 13 Mar. 2014.
http://www.mayoclinic.org/diseases-conditions/leukemia/basics/symptoms/con-20024914
Leukemia-Topic Overview. WebMD, LLC. Web. 15 Mar. 2014.
http://www.webmd.com/cancer/tc/leukemia-topic-overview
Reviewed March 28, 2014
by Michele Blacksberg RN
Edited by Jody Smith