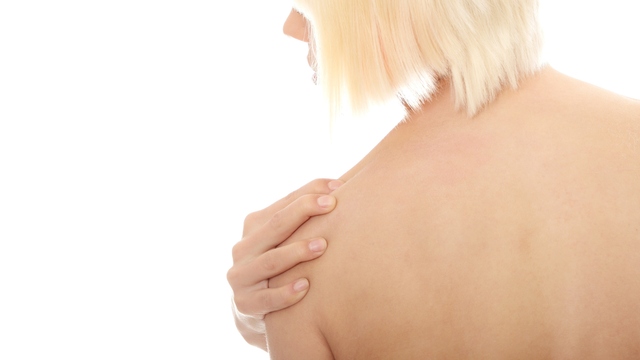 B-D-S/PhotoSpin
Breast pain or tenderness is also called mastalgia. The pain may feel mild or severe, achy or sharp, and it may come and go. Breast pain commonly affects the upper, outer area of both breasts, though the pain can spread to the arms. 1
"As many as 50% to 70% of women experience breast pain," reported CPMC.org.
There are a number of causes for breast pain. Though it is natural to be concerned, breast pain usually does not mean you have breast cancer, nor is it linked to a higher risk of cancer.1,4
The most common cause of breast pain is changes in hormone levels.4 Puberty changes in girls, and sometimes in boys, can cause mastalgia.
Menstruation, pregnancy (most often in the first trimester), the days right after childbirth, and menopause are the other most common reasons a woman develops breast pain.
Certain medications can also cause breast pain. Other causes of breast pain can be underlying medical problems that cause pain in the chest area such as pulmonary problems, cardiac disease, gastric diseases and injuries to the shoulder or chest wall.1
Breast pain is divided into two categories: cyclic and noncyclic.
Cyclic breast pain is the type that is directly related to hormones. It generally occurs in both breasts, and may feel like heaviness or soreness. It is usually the most severe in the days before a menstrual period and disappears after it is over.
Women with fibrocystic breasts may also experience cyclic pain. Fibrocystic breasts have lumpy areas that are filled with fluid which may be more tender before a period. Cyclic breast pain is more likely to go away after a woman goes through menopause.4
Noncyclic breast pain is more common in women who are 30-50 years of age. It may feel like a sharp or burning spot in one area of the breast, and it can occur in only one breast.3
Mastitis is a type of noncyclic breast pain, which is caused by an infection in the breast. In women who are breastfeeding the pain can be more intense. Mastitis must be treated with oral antibiotics to control the infection. It will not go away on its own.
Sometimes noncyclic pain can be caused by a fibroadenoma, which is a firm, easily moveable, non-cancerous lump in the breast.
A breast biopsy is sometimes used to tell the difference between a fibroadenoma and breast cancer.3
What can you do about breast pain?
- Try to reduce your stress.
- Reduce your caffeine intake.
- Take over-the-counter medicines such as acetaminophen or NSAIDs.
- Wear a supportive bra during the day and perhaps wear it at night to sleep.
- Try hot or cold compresses.
- Reduce the salt in your diet.
It is important to see your doctor if you notice any of the changes listed below, or if you see no improvement from the above-mentioned comfort measures:1
- One or both breasts have changed in size or shape
- If you notice discharge or any changes in your nipple
- If you notice dimpling on the skin, areas of thickening or a new lump in your breast.
- You feel a lump or swelling in one of your armpits
Sources:
1) What is breast pain? What is mastalgia? Medical News Today.com. Retrieved Jan. 4, 2015.
http://www.medicalnewstoday.com/articles/263566.php
2) Breast Pain. Sutter Health CPMC.org. Retrieved Jan. 4, 2015.
http://www.cpmc.org/services/women/breast/breast_about.html
3) Breast Pain (Mastalgia) - Topic Overview. WebMD.com. Retrieved Jan. 4, 2015.
http://www.webmd.com/women/tc/breast-pain-mastalgia-topic-overview
4) Breast Pain. National Breast Cancer.org. Retrieved Jan. 4, 2015.
http://www.nationalbreastcancer.org/breast-pain
Michele is an R.N. freelance writer with a special interest in woman's healthcare and quality of care issues.
Edited by Jody Smith