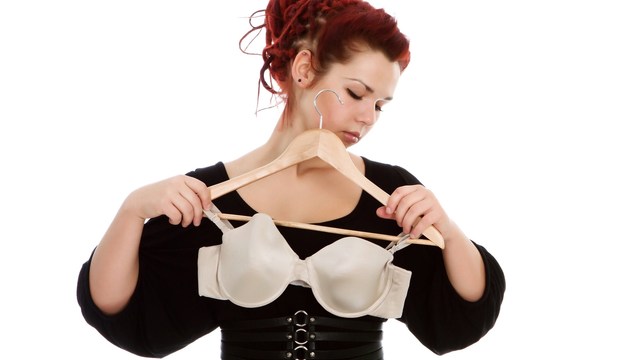 Roberts Ratuts/PhotoSpin
Cynthia Decker and Molly Hopkins are reality television's most "uplifting" duo. They are the down home stars of Lifetime's eye-opening unscripted one-of-a-kind docuseries Double Divas.
The series offers a hilarious peek into the world of intimate apparel at LiviRae Lingerie, Cynthia's and Molly's renowned Atlanta, Georgia boutique, where the motto is: "No bust too big or small. We fit them all!"
Cynthia and Molly answered five questions exclusively for EmpowHER readers. Read on to find out how wearing the right bra can actually change one's life.
1. What are the health benefits of wearing the right bra?
Support from the bra is distributed through the back band, on the lower part of your back , eliminating upper back discomfort, and the strain from harnessing yourself in too tight of a strap.
It decreases the likelihood of unnecessary lumpectomies due to improper wire wear. It also decreases back pain in general, improves posture, and increases positive mental attitudes because when you see yourself in the mirror, you look and feel better.
2. Do most women wear the correct sized bra?
Only 15 percent, statistically, are wearing the right size but we believe the number is much lowered largely due to the fact that there are women in that 15 percent who are unaware that their bra fits incorrectly.
3. Can changing your bra really change your life?
Changing your bra can absolutely change your life. From the color of it, to the style, to the shape it gives you, to the emotions that can come out, to the stories revealed in a one-on-one consultation when you go through the fit process ... when the clothes come off, the secrets spill out.
4. How can having the right bra affect one's emotional health?
When you're proud, you typically stick your chest out. A great bra will do that for you, and what's underneath your clothes can change the outside perspective, even though you can't see it.
5. What do the Double Divas most want women to know about wearing the right sized bra?
Ditch the letter. Don't fear the alphabet. D is small , G is average, N is off the charts , so if you think you are a D, you are probably a G . Most DD's end up as a G or H cup when fits properly.
Sources:
Exclusive interview via email. 21 April 2014.
Mylifetime.com. Web. 23 April 2014. "About".
http://www.mylifetime.com/shows/double-divas/about
Reviewed April 24, 2014
by Michele Blacksberg RN
Edited by Jody Smith