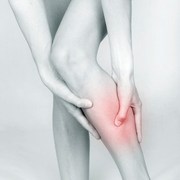 Photo: Getty Images
What is Calf Strain?
The calf is made up of two main muscles: the gastrocnemius muscle, which is the larger outside muscle, and the soleus, which connects to the foot via the Achilles tendon. Calf strain, or medial gastrocnemius strain, happens when the calf muscle become partially torn or, in severe cases completely ruptured.
Calf strain is common in "weekend warrior" athletes, and is often called "tennis leg" because it happens so frequently to tennis players. Men suffer calf strain more often than women, and athletes between the ages of 40 and 60 are more prone. While most medial calf injuries seen are acute cases, there are more frequent reports from athletes who experience calf tightness for several days before the injury suggesting that the injury may incrementally worsen.
Calf strain occurs when extra force is applied to the calf muscle, usually when the knee is extended, the foot pointing up, and the calf muscle tries to contract in this position. As an example, this is a common position for the back leg in a tennis stroke, but it can also happen to athletes who push or lift heavy objects.
Symptoms of Calf Strain
There are three levels of severity of calf strain. Symptoms of Grade 1 calf strain include:
• Twinge of pain in the back of the lower leg
• May be able to continue playing
• Tightness and soreness in the area for two to five days following
Symptoms of a Grade 2 calf strain include:
• Sharp pain in the back of the lower leg
• Pain when walking
• Swelling in the calf
• Mild to moderate bruising
• Pain when the angle between the front part of the foot and the shin is greater than 90 degrees
• Tightness and aching longer than a week
Symptoms of a Grade 3 calf strain include:
• Severe immediate pain
• Sudden (acute) pain at the back of the leg
• Inability to contract the muscle
• Lots of swelling and bruising
• Muscle bunched up towards the top of the calf (in full rupture cases)
Many athletes report a popping sound during activity and a feeling as if a stick has struck the calf. The pain can start in the area of the calf and then radiate to the knee or ankle, which is also usually associated with range of motion of the ankle.
Causes and Treatment for Calf Strain
Causes of calf strain include poor warm up and cool down routines, lots of hill climbing or sudden increase in mileage for runners, "pronation" (where a runner's foot turns over too much as he or she runs) and dehydration.
In many cases, runners continue running even after experiencing the first signs of a calf strain, and adjust their stride to decrease heel strike and increase the forefoot foot slap, which actually makes the calf strain worse. Calcium, trace minerals and magnesium deficiencies can also lead to calf strain.
A partial or complete rupture of the calf muscle can take between four and 12 weeks to completely heal. Inflammation of the muscle may just require 7 to 10 days of rest before training can start again.
To make sure your body has sufficient time to heal be sure to:
• Apply the R.I.C.E. technique – rest, ice, compression, elevation for the initial 24-72 hours
• Apply ice as soon as possible to minimize any internal bleeding
• Apply a compression (tensor) bandage or sleeve
• Make an appointment with a sports injury professional to initiate a proper and thorough treatment plan, which may include anti-inflammatories, ultrasound, sports massage, and rehabilitation
• Put heel pads in both shoes to take strain off the calf muscles
Once an athlete is pain-free, sports-related activities can resume, but strengthening and stretching of the calf muscle should continue for several months following the injury to ensure that the tear or rupture doesn't recur.
Sources:
Calf Strain. Sports Injury Clinic. Web. Dec 26, 2011.
http://www.sportsinjuryclinic.net/cybertherapist/back/backlowerleg/calfstrain.htm
Calf Strain and Running. Runners Rescue. Web. Dec 26, 2011. http://www.runnersrescue.com/Running_Calf_Pain_Strain_Injury.htm
Medial Gastrocnemius Strain. WebMD. Web. Dec 26, 2011. http://emedicine.medscape.com/article/91687-overview
Reviewed December 27, 2011
by Michele Blacksberg RN
Edited by Jody Smith
Tags: