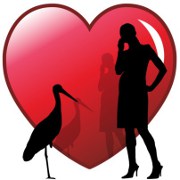 Photo: Getty Images
For reasons that have previously eluded researchers, some women develop a heart disease called peripartum cardiomyopathy or PPCM, during late pregnancy. Cardiomyopathy is a disease that attacks the muscles of the heart and may lead to life threatening conditions such as heart failure, blood clots, heart murmurs, cardiac arrest, and even sudden death.
There are three different types of cardiomyopathy:
• Dilated: most common type, left ventricle becomes dilated or enlarged, affects blood flow through the heart and impairs pumping ability

• Restrictive: least common type, heart becomes rigid and unable to fill with blood
A dilated form of cardiomyopathy, peripartum cardiomyopathy, generally develops late in pregnancy. Affecting somewhere between 2,000 to 4,000 live births each year in the Unites States alone, most cases of PPCM manifest as early as the last month of pregnancy, although some cases may develop as late as five months after delivery. While PPCM is generally treatable, it can be life threatening. In order to survive, some women need either a pacemaker or heart transplant.
Until recently, there has been no known cause for PPCM, leaving physicians unable to diagnose who might be at risk or take preventative measures to protect their patients. This may change in the future. Led by Benjamin Horne, PhD, researchers at the Intermountain Medical Center identified a genetic mutation which may be predictive of how likely a woman is to develop PPCM during pregnancy.
As a part of the study, researchers examined DNA samples from 90 women. Forty-one women were previously diagnosed with PPCM. All participants with a history of PPCM were in their 20s or 30s. The remaining 49 participants were all over the age of 75 and had no history of heart disease or other cardiac events. Two-thirds of the women with PPCM had a mutation on chromosome 12. According to Horne, chromosome 12 is close to a gene which is linked to blood pressure and uterine and heart muscle contractions.
To verify results, researchers repeated the DNA test with a second and third group of women. In each instance, the results were the same. Researchers found that women with PPCM were two and a half times more likely to have a mutation on chromosome 12 mutation than their heart healthy counterparts.
The results from this study are significant because it's the first time that PPCM has been linked to a specific gene mutation. The findings could lead to tests in the future which could enable physicians to diagnose whether or not patients are at risk for PPCM during pregnancy. With early diagnosis, it might be possible to prevent PCCM or reduce the severity of the disease.
Sources:
Cardiomyopathy, The Mayo Clinic, 05 March 2010, http://www.mayoclinic.com/health/cardiomyopathy/DS00519
Intermountain Medical Center (2011, June 21). First genetic mutation linked to heart failure in pregnant women. ScienceDaily. Retrieved June 26, 2011, from http://www.sciencedaily.com /releases/2011/06/110621141853.htm
Erin Martineau, Peripartum cardiomyopathy (PCCM), A Mothers Heart, 07 Aug 2008, http://www.amothersheart.org/about_ppcm.htm#PPCM1
Reviewed June 27, 2011
Edited by Alison Stanton