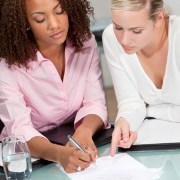 Photo: Getty Images
If you are in a caregiving or elder care role, discussing legal issues can be a difficult and sensitive matter.
However, addressing legal issues in advance will save you headaches and possible arguments later on down the line if the person you are caring for becomes incapacitated.
Please note each state has different laws for caregiving and elder care matters. The website eCare Diary has advanced health care directives for all 50 states. See the following link for your state's legal document: http://www.ecarediary.com/LegalDocuments.aspx.
An advanced health care directive (AHCD) is one of the easiest and first things a caregiver can do for their patient or loved one. An elder-law attorney can assist with an AHCD or you can secure a free copy online (see link above). Please note many states may require the AHCD to be signed and witnessed by a Notary Public.
An AHCD (also known in some states as a Power of Attorney for Health Care or Durable Power of Attorney for Health Care) appoints someone to make your medical decisions for you in case you become incapacitated. Also, an AHCD instructs your doctors on the type of medical treatment you want in case you become incapacitated (also known in some states a living will).
For example, the AHCD may include:
• Choice to prolong life versus choice not to prolong life
• Do not resuscitate order (DNR)
• Possible use of ventilator or other machines to prolong your life
• Organ donation options
• Pain treatment options
• Power of Attorney for health care (designates an agent to make your health care decisions if you are unconscious or incapable)
• The scope of agent's authority
• Agent's obligation
As each state has their own AHCD laws, it is important to have a current AHCD signed document. Also, the AHCD legal document is valid in 49 states and the District of Columbia. California has separate AHCD laws.
After you have a signed copy of the AHCD, it is very important to give a copy to the patient's doctor and have a copy attached to their medical chart. Also, keep a copy on hand if you are the designated agent.
Please note the following information in this article does not replace an attorney's advice. It is best to seek an attorney who has extensive experience in estate planning, elder law and taxation. Here are some additional legal resources:
• National Senior Citizens Law Center, 202+289+6976, http://www.nsclc.org/
• National Academy of Elder Law Attorneys, 520+881+4005, http://www.naela.org
• National Association of Area Agencies on Aging, 202+296+8130, http://www.n4a.org/
• American Bar Association, 202+662+8690, http://www.americanbar.org/groups/law_aging.html
You can also check with your local senior organization or local hospital for additional information on an AHCD.
Sources:
http://www.ecarediary.com/LegalDocuments.aspx
http://www.caregiver.com/articles/caregiver/legal_issues.htm
http://www.caregiver.org/caregiver/jsp/content_node.jsp?nodeid=437&expandnodeid=387
http://www.agingcare.com/Articles/what-are-advance-care-directives-140690.htm
Reviewed June 22, 2011
Edited by Alison Stanton