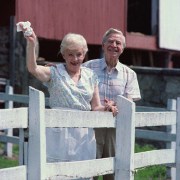 Photo: Getty Images
According to a recent survey by the National Alliance for Caregiving (NAC) and the AARP, "between 81-90 percent of family caregivers do not use respite services."
A large percentage of caregivers need time off, also known as respite, to prevent burnout and reduce stress.
Another study, published in the Journal of American Medical Association, confirmed the importance of respite. The study revealed "respite and counseling lessens depression and helps caregivers avoid nursing home placement of their loved one for as much as a year."
When you are a family caregiver, it is difficult to think of yourself and take time off. Also, there are other barriers like guilt, wait lists, what type of care to consider and financial issues which may hold many caregivers back from taking time off.
The first step in considering respite is researching all possible temporary caregiving services for your loved one. If you are considering taking a respite, here is a list of possible respite care resources:
ARCH National Respite Network
http://archrespite.org/respitelocator
http://www.archrespite.org/state-respite-coalitions
919-490-5577
ARCH offers a database of national, state and local respite care services.
Easter Seals
http://www.easterseals.com/site/PageServer?pagename=ntl_adult_and_senior_services
800-221-6827
Easter Seals offers a wide range of respite care services across the country. For a respite program in your area, type "respite care" in the search box and locate a program in your immediate area.
Eldercare Locator
http://www.eldercare.gov/Eldercare.NET/Public/Index.aspx
800-677-1116
The Eldercare Locator can help you find your local Area Agency on Aging (AAA). Your local AAA can help you find resources in your area such as respite care.
Faith in Action
http://www.fianationalnetwork.org/
877-575-4932
The Faith in Action program, supported by the Robert Wood Johnson Foundation, has more than 600 local based volunteer caregiving programs across the U.S. Also, this website allows you to search for a program in your area by zip code or state.
Family Caregiver Alliance
http://www.caregiver.org/caregiver/jsp/fcn_content_node.jsp?nodeid=2083
800-445-8106
The Family Caregiver Alliance website offers the Family Care Navigator. The Navigator can help you find respite resources in your area.
National Adult Day Services Association (NADSA)
http://www.nadsa.org/?page_id=83
877-745-1440
The National Adult Day Services Association can help you find services in your area. They have an informative guide on respite services.
National Association of Professional Geriatric Care Managers (NAPGCM)
http://www.caremanager.org/displaycommon.cfm?an=1&subarticlenbr=306
520-881-8008
NAPGCM website allows you to find a care manager in your area.
Shepherd's Centers of America
http://www.shepherdcenters.org/scamembercenterslistall.asp
800-547-7073
This organization provides a variety of respite care services.
In my next article on this topic, I will highlight state and national sources that may help pay for respite care services.
Sources:
http://www.azcentral.com/news/election/azelections/articles/2011/06/24/20110624arizona-caregivers-funding-cuts.html#ixzz1QJEt3Fr1
http://www.caring.com/articles/family-caregiver-respite
http://www.strengthforcaring.com/manual/comfort-and-relaxation-relaxation-and-meditation/all-about-respite/
http://www.helpguide.org/elder/respite_care.htm
http://en.wikipedia.org/wiki/Respite_care
http://www.eldercare.gov/Eldercare.NET/Public/Resources/Factsheets/Respite_Care.aspx
http://www.rorc.research.va.gov/rescue/community-resources/respite-care.cfm
http://www.archrespite.org/consumer-information
http://www.archrespite.org/images/docs/2011_Respite_and_Caregiving_Fact_Sheet.pdf
Reviewed June 27, 2011
Edited by Alison Stanton