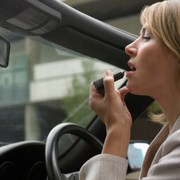 Photo: Getty Images
Recent news from the American College of Gastroenterology's annual meeting attests to just how hard it is to manage celiac disease. Would you believe there's a possibility that certain cosmetics can accidentally expose you to gluten, especially if the cosmetics are for your lips or face?
Celiac patients go to great lengths to avoid gluten by sticking to a diet of gluten-free products which, fortunately, are becoming increasingly available in grocery stores. But now their attention might need to go to cosmetics as well.
A study called "Information About Cosmetic Ingredients is Difficult to Obtain: A Potential Hazard for Celiac Patients" was presented at the ACG's annual meeting in Washington, D.C., in late October 2011. In the study, researchers from George Washington University focused on the top 10 cosmetic companies in the United States, evaluating whether the companies made it easy or difficult to get information about ingredients in their cosmetics and whether they offered any gluten-free cosmetics.
One of the researchers, Dr. Marie L. Borum, said the study was prompted in part by a patient of hers, a 28-year-old woman who used a body lotion advertised as "natural" and then experienced a worsening of her celiac symptoms, including gastrointestinal problems and a recurring skin rash.
"It was difficult to determine whether gluten was contained in the product she was using," said fellow researcher Dr. Pia Prakash in an ACG news release. "But once she stopped using the body lotion her symptoms resolved. This case highlights the fact that celiac patients face a huge challenge in trying to determine whether cosmetic products contain gluten -- and a risk of unknowingly exposing themselves to gluten."
After identifying the top 10 cosmetic companies, Borum and Prakash visited their official websites, searching for "gluten" and "gluten-free." They consulted independent websites as well.
Only two cosmetic company websites offered detailed ingredient information, the study noted, and gluten sources were not identified. Independent websites offered a bit more information about ingredients, but again, nothing about gluten. According to the study findings, none of the companies specifically offered gluten-free cosmetics.
Dr. Prakash said that while smaller companies might specifically advertise gluten-free alternatives, "top-selling manufacturers should indicate whether their products can be safely used by individuals with gluten sensitivity."
As the ACG pointed out, gluten avoidance is the only treatment option for celiac disease, an autoimmune disorder that affects the small intestine and leads to malabsorption of nutrients. Beyond chronic abdominal pain, bloating, gas and diarrhea, celiac patients suffer complications such as reduced bone density, infertility, neurological disorders and some cancers.
The National Foundation for Celiac Awareness estimates that 1 of every 133 Americans has celiac disease, even though it's not always immediately diagnosed when symptoms occur. Also important to add is the ACG's estimate that 60 to 70 percent of celiac patients are women.
Keep in mind that the George Washington University study contains preliminary data and has not yet been published in a peer-reviewed journal. Hopefully, there will be more information to come on the possible link between cosmetics and gluten.
Sources:
Celiac Patients Face Potential Hazard As Information on Cosmetic Ingredients Difficult to Find: Products Used on Lips and Face Can Result in Unexpected Exposure to Gluten. "2011 Press Releases from ACG 76th Annual Meeting." American College of Gastroenterology. Web. 22 Nov. 2011. http://gi.org/media/press-releases-for-acg-annual-scientific-meeting
"Celiac Disease Facts & Figures." National Foundation for Celiac Awareness. Web. 22 Nov. 2011. http://www.celiaccentral.org/Celiac-Disease/Facts-Figures/35
Reviewed November 23, 2011
by Michele Blacksberg RN
Edited by Jody Smith
Tags: