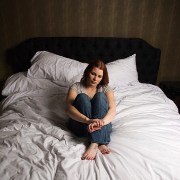 Photo: Getty Images
Christmas can be tricky for anyone. It can be especially tricky for someone with Chronic Fatigue Syndrome. People with CFS struggle with multiple health problems, contending with a disease that is not understood and is often not treated with any respect. This gets really tricky.
I have been very fortunate. I have gone from being a CFS vegetable not too many Christmases ago, living in my bed, to being almost normal today. But I remember what it was like.
People with Chronic Fatigue Syndrome want things just like anyone else. They very often are doing without, due to financial issues, or because of physical and cognitive limitations. Sometimes just breathing is all we can do, and sometimes it seems we forget to do that. Reminder to self — Inhale. Exhale.
When life is lived hanging from the bottom rung in this way, expectations are sparse. Survival is paramount. When life is lived this way long enough, the spark of hope dwindles.
We begin to forget who we were. We begin to forget about the things that make for a good life. And we will on occasion use up our wisp of cognitive ability for the day realizing once more that, we cannot have the things that make for a good life.
I remember a time when I aspired to being able to go for a walk around the block. To being able to talk on the telephone. Going to the grocery store. Sitting up for a whole evening when our kids came to visit. All these things were out of reach.
When it comes to Christmas, many people with Chronic Fatigue Syndrome are thwarted. They are thwarted all year round but at Christmas the pain is especially profound.
There was a popular song years ago that started out, "All I want for Christmas is..." and ends with "my two front teeth". Not a song of any great meaning and significance. But let's change the end of that first line. Someone with Chronic Fatigue Syndrome may be hoping for some pretty slim pickin's, for things you might find trivial. But from where they sit, it's as remote as the moon.
They might want someone to spend Christmas Day with. They might want a phone call from someone who cares. They might wish somebody would offer to pick them up and take them shopping, if they're healthy enough for that.
It might be nice to have someone make Christmas dinner. And it might be nice if Christmas dinner was more than a can of soup or plain bread.
Think this doesn't happen? Don't kid yourself.
We maybe don't want much. But we want it with a soul-deep ache and a sense of grief. Because we know we're not asking for much. But we also know we can't have it.
Do you know someone with Chronic Fatigue Syndrome? Have you called them or gone to visit them? It would mean the world if you did so. Bringing over some kind of treats or groceries, and sticking around to do some laundry or make their dinner would be the icing on the cake.
It would take so little to completely change someone's CFS Christmas.
I spent 15 years losing the battle against Chronic Fatigue Syndrome. Four years ago, I found treatment that worked for me, and now I am making a comeback.
http://www.ncubator.ca and http://ncubator.ca/blogger
Tags: