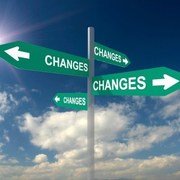 Photo: Getty Images
To be old, to be sick ... Sometimes I am both ... Sometimes I'm neither. Some of this paradox is due to being 56 years old. In this day and age, that is neither young nor old. Or a bit of both.
But in some ways, Chronic Fatigue Syndrome is the source of this mingled legacy. It's hard to know how much of the energy deficit, the digestive issues and the memory malfunctions are consequences of being in my late fifties and how much are lingering baggage from CFS.
I am one of the lucky ones who has been recovering from the life of a dried out vegetable. But the future is uncertain. I know it's uncertain for everyone but I have a few more wild cards than the average individual, middle-aged or not.
Chronic Fatigue Syndrome is full of mysteries and blank spots.
None of us who live with this illness really has any idea how much of our lives and our brains we might be able to get back. And none of us know how much of what we get back we'll be able to hang on to.
All of us have had crashes that take us, like Bruce Willis in a Die Hard movie, hurtling through ceilings, floors and hitting the basement with a slam.
With each crash, we are faced once again with the wild cards. Will we be able to crawl back up from the basement? And if so, how far?
Anyone with CFS is all too familiar with this. For those of us who are getting on in years, who have perhaps spent decades being unwell, out of condition and out of breath ... well, the X factors get even more complex.
As a woman over fifty, I know that it's possible to hang on to health longer than past generations could. After all, they say fifty is the new forty. Or whatever the most trendy slogan is. But, after being chronically ill for decades, is that still possibly true?
I don't know the answer to that question. I am an ongoing experiment with uncertain criteria, with an indefinite diagnosis, and with a prognosis full of guesswork and hopes that may or may not be unfounded.
Will I ever get back everything I've lost to Chronic Fatigue Syndrome? I doubt it. So much time has gone by, the people I used to know and spend time with have moved on. My children are grown. And my body, in its fifties, has found itself with a new and unexplored road map.
There's really only one thing I am sure about, and that is this. I will do my best to reclaim as much of myself as I can, and I will stretch myself to my limits. In the process, I will find out just how far I can go.
I spent 15 years losing the battle against Chronic Fatigue Syndrome. Five years ago, I found treatment that worked for me, and now I am making a comeback.
http://www.ncubator.ca and http://ncubator.ca/blogger
Tags: