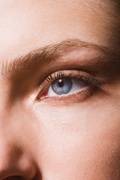 Photo: Getty Images
Diseases of the cornea are the most common cause of blindness around the world. For many people, surgery to replace the cornea is the only way to preserve vision. But the number of corneas available from organ donations does not come close to the number of corneas needed. A new biosynthetic cornea developed by researchers in Canada and Sweden may provide a solution for millions of people whose vision is deteriorating.
The cornea is the dome-shaped clear front surface of the eye. Light entering the eye passes through the cornea and lens which work together to focus the image. The cornea is made up of a thin layer of collagen, which is a protein that is also found in the skin and tendons. In order to function correctly, the cornea must be completely clear and smooth. Any bumps or distortion on the surface of the cornea affect how well we can see. Clouding of the cornea is the most common cause of blindness.
The shortage of donated human corneas lead Dr. May Griffith of the Ottawa Hospital Research Institute to try to create a cornea in the lab that can be surgically implanted in the eye to replace a cloudy cornea. Working in conjunction with Dr. Per Fagerholm, an eye surgeon at Linkoping University in Sweden, Griffith's research led to the development of a synthetic cornea that was made using genetically engineered human collagen.
In human trials, 10 Swedish patients with badly scarred corneas each had one cornea replaced with a biosynthetic cornea. The researchers noted that cells and nerves from the patient's own corneas grew into the implant which in effect "regenerated" the cornea into healthy tissue. The replacement corneas showed other signs of healthy growth including becoming sensitive to touch and producing normal tears which provide oxygen for the eye.
In cases where human donor tissue is used, patients typically need to take long-term immune suppressing drugs to keep their bodies from rejecting the donor tissue. With the biosynthetic corneas, none of the patients showed any rejection of the new cornea tissue, and none required the immune suppressing drugs. Six out of 10 of the biosynthetic cornea recipients had improved vision and after contact lens fittings their vision equaled conventional human donor tissue transplant patients.
Research is continuing to improve surgical methods for inserting the biosynthetic corneas as well as broadening the scope of the diseases of the cornea that can benefit from this type of replacement. Griffith said, "With further research, this approach could help restore sight to millions of people who are waiting for a donated human cornea for transplantation."
Sources:
Science Daily
National Eye Institute
Tags: