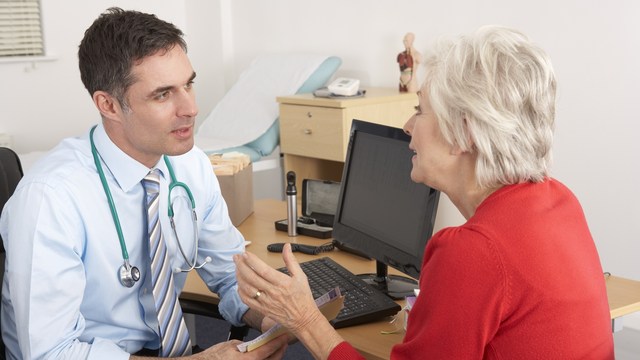 MonkeyBusiness Images/PhotoSpin
The month of March is marked as a time to foster greater awareness about colorectal cancer. The CDC is one of many organizations reminding Americans during National Colorectal Cancer Awareness Month about symptoms and risk factors, and how we can be screened for cancer of the colon or rectum.
Colorectal cancer is the second leading cause of death from cancer in the United States. Of the 140,000 Americans who are diagnosed with colorectal cancer, more than 50,000 will die of it, according to the CDC website.
More than 90 percent of colorectal cancer cases happen to people who are 50 years of age or older. The CDC strongly advises all who are 50 and older to be screened for colorectal cancer, and to have regular screening until 75 years of age. This screening test can discover precancerous polyps before they become cancerous.
There are things you can do in your personal life to lessen your risk for colorectal cancer.
Maintaining a healthy weight and avoiding extra weight around your midsection can lower your risk. So can upping your physical activity, and increasing its intensity. Keep alcohol consumption to a reasonal level, and don't smoke. If you smoke but want to quit, call 1 (800) QUIT-NOW, text the word "QUIT" to 47848 from your mobile phone, or visit www.smokefree.gov/
Colorectal cancer and precancerous polyps can be asymptomatic. This is why screening is so important. A screening test can inform you before you've had any symptoms at all.
If you have colorectal cancer that has progressed to the point that symptoms have begun to appear, these are some of the things you may experience.
You may have:
- Bloody stool
- Stomach pain or cramps
- Unexplained weight loss
Keep in mind that these indicators don't necessarily mean you have cancer. But it's important to have them checked out by a health care professional.
Some people are more likely than others to develop colorectal cancer. You may be at higher risk if you have:
- Crohn's disease, inflammatory bowel disease or ulcerative colitis
- Personal or family history of either colorectal cancer or polyps, or both
- Familial adenomatous polyposis (FAP), hereditary non-polyposis colorectal cancer (Lynch syndrome) or another genetic syndrome
Some screening tests are used in combination, some are used alone. Your health care practitioner can determine which test or tests are most appropriate for you.
Some tests recommended by the U.S. Preventive Services Task Force are:
- High-sensitivity fecal occult blood test (FOBT), stool test, or fecal immunochemical test (FIT) every year
- Sigmoidoscopy with FOBT every three years
- Sigmoidoscopy by itself every five years, with FOBT every three years
- Colonoscopy every 10 years
In a statement about National Colorectal Cancer Awareness Month, Assistant Secretary for Health Dr. Howard K. Koh said, "The U.S. Department of Health and Human Services is committed to boosting public awareness about the importance of screening and treatment for colorectal cancer."
He said that the Affordable Care Act has eliminated financial barriers to regular screening for many Americans. Now more people can avail themselves of preventive services without cost sharing.
Raising awareness about colorectal cancer testing in the month of March can contribute to the eventual elimination of colorectal cancer.
Sources:
March Is National Colorectal Cancer Awareness Month. CDC.gov. Retrieved March 25, 2014.
http://www.cdc.gov/cancer/dcpc/resources/features/ColorectalAwareness
National Colorectal Cancer Awareness Month. HHS.gov. Retrieved March 25, 2014.
http://www.hhs.gov/news/press/2014pres/03/20140305a.html
Visit Jody's website at http://www.ncubator.ca
Reviewed March 26, 2014
by Michele Blacksberg RN
Tags: