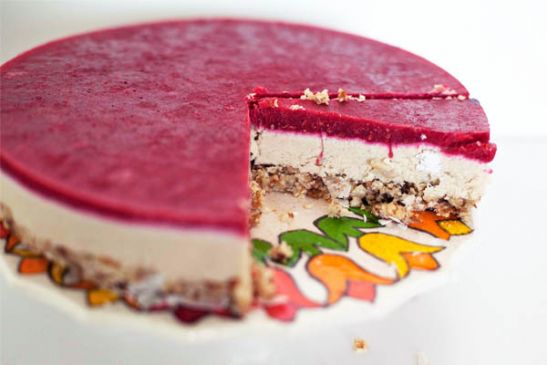 Most people choose to become vegan because they love animals and don't want to harm them, but health certainly comes into it too. What's more, you don't actually have to be vegan to enjoy vegan recipes- and the associated health benefits- once in a while. Here are 11 incredible, delicious and indulgent recipes you wouldn't believe are vegan.
1. Sun-Dried Tomato, Mushroom and Spinach Tofu Quiche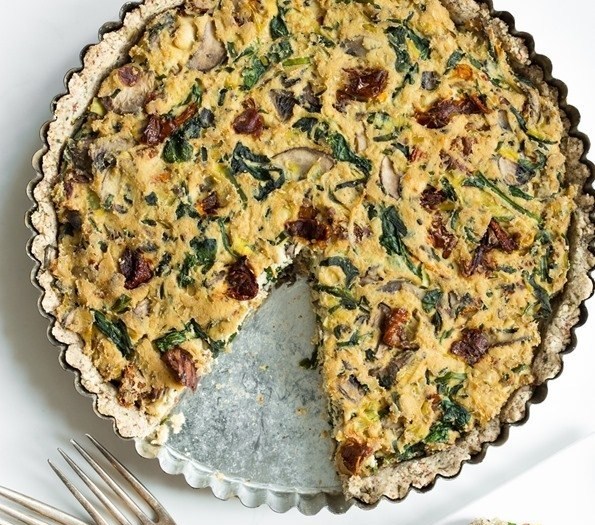 Don't be put off by the word 'tofu'. The soybean product is an excellent source of protein, amino acids, iron, calcium and other nutrients. Plus, you can use it to make a delicious, egg free quiche filling. This tomato, mushroom and spinach quiche also uses rolled oats and almonds for the crust for an extra boost of protein. Get the recipe here.
2. Seitan Panang Curry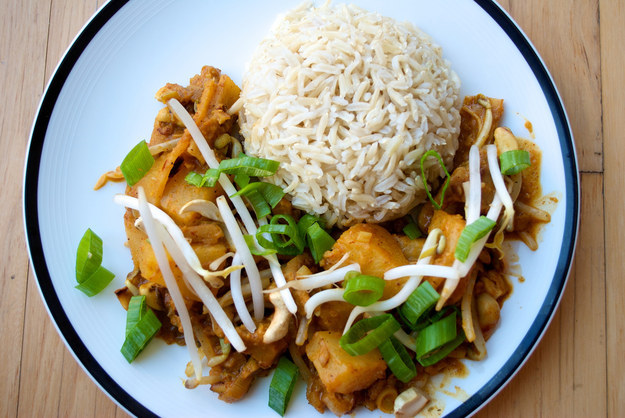 Via strawberrypepper.com
This rich, spicy, Malaysian inspired curry is made with seitan: a 'mock meat' product made from stretchy wheat gluten. If you've never tried it before, now's your chance! The dish is flavored with coconut milk, lemongrass, lime leaves, coriander and cinnamon, so it certainly packs a punch when it comes to flavor. What's more, each serving contains over 18g of protein. Get the recipe here.
3. Butternut Squash Mac and 'Cheese'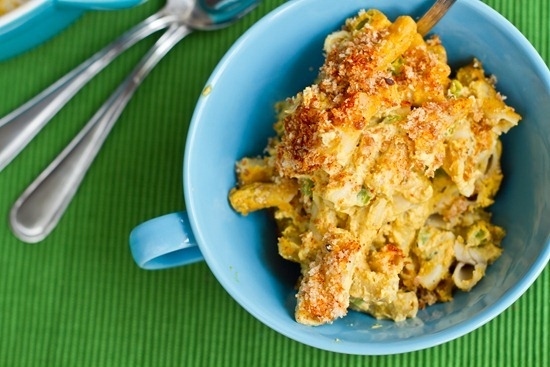 Via ohsheglows.com
Is there anything more comforting than a big bowl of Mac and Cheese? How about the knowledge that this particular version is vegan? This creative recipe uses roasted butternut squash mixed with cashews and non dairy milk to create a creamy, flavorful sauce that works perfectly with the dense noodles. Recipe here.
4. Popcorn 'chicken'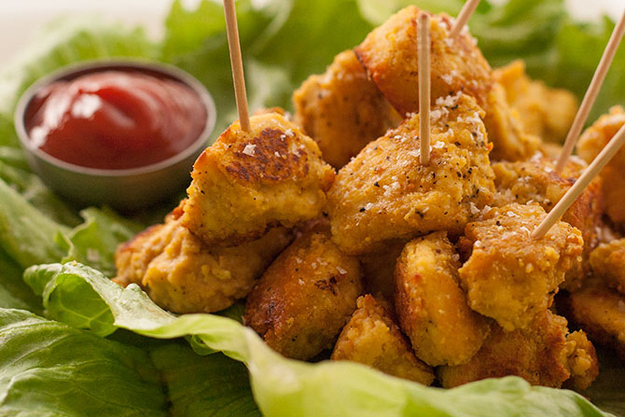 Via thevedge.com
This recipe calls for the tofu to be coated in chickpea flour and Cajun seasoning before being deep fried. The frying aspect means that this dish isn't as healthy as the other options on this list, but if you dry the tofu pieces to remove excess oil it's still a lot healthier than the meaty version…and just as tasty. You can get the recipe here.
5. Crispy baked onion rings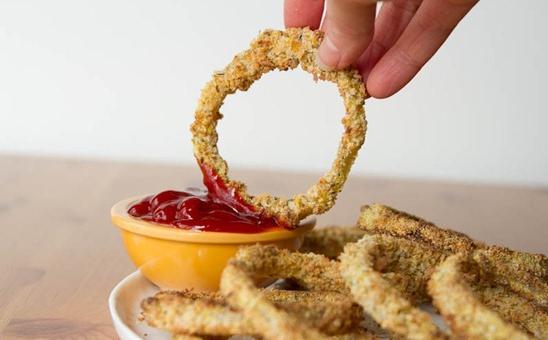 Via ohsheglows.com
If you want to avoid fried food entirely, then these baked onion rings are a fantastic alternative to similar, non vegan snacks. Simply cut an onion into rings, then coat the pieces with cornmeal, nutritional yeast (which is a lot tastier than it sounds!), garlic powder and herbs before baking. The results are delicious, especially when combined with a dipping sauce: get the recipe here.
6. Vegan 'Big Mac'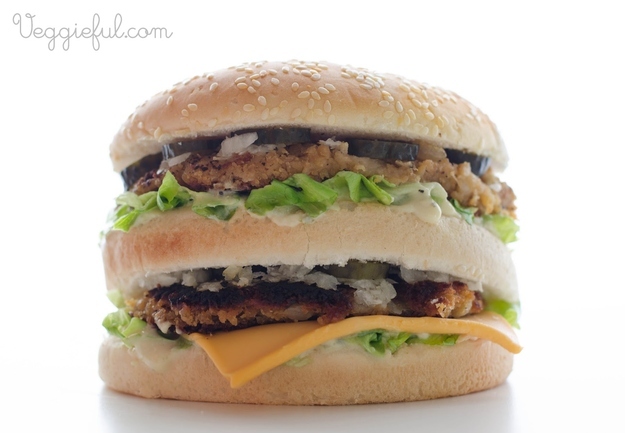 Via veggieful.com
If fast food cravings are derailing your healthy eating plan, don't worry. The geniuses at Veggieful.com have managed to come up with a fully vegan version of the iconic Big Mac. Their Mac is made from a variety of wholesome ingredients such as chickpeas, soy cheese, garlic, mustard and iceberg lettuce. The overall flavor is amazing: you can get the recipe here.
7. 'Cheese' pizza

Via keepinitkind.com
Not a fan of Big Macs? How about pizza? This quick, easy vegan version of a traditional cheese pizza is made from hand made dough, shredded mozzarella style 'cheese' (easily available from a range of health food stores) and marinara sauce. The results are incredible and the calorie count is much lower than you'd expect! You can get the recipe here.
8. Japanese spiced sweet potato fries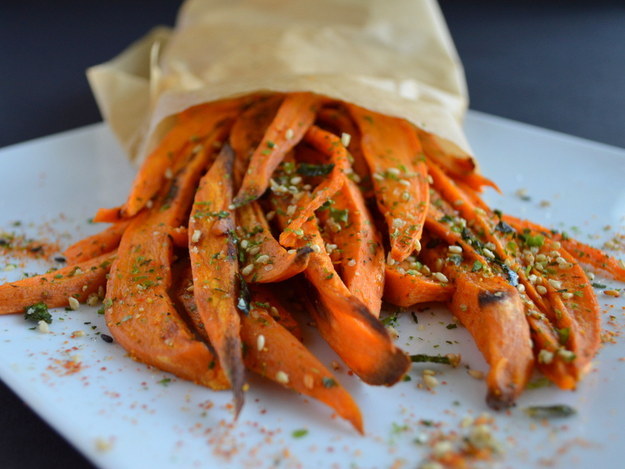 Via healthynibblesandbits.com
Want something to go with your 'Big Mac' or vegan pizza? What about these delectable sweet potato fries? Sweet potatoes are packed with vitamins, iron and magnesium, meaning that these spicy treats are a lot healthier than traditional fries. You can get the recipe here.
9. Vegan lasagna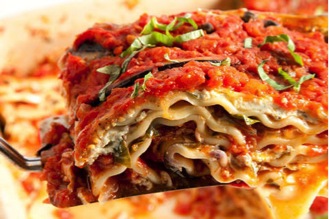 Via chow.com
Anyone who claims that vegan food is restrictive or dull really needs to try this recipe. It's so good that you might never go back to traditional lasagna again! The 'cheese' filling is a tasty blend of tofu, herbs, nutritional yeast and lemon. It's layered with eggplant and a rich tomato sauce. You can get the recipe here.
10. Creamy chickenless salad wraps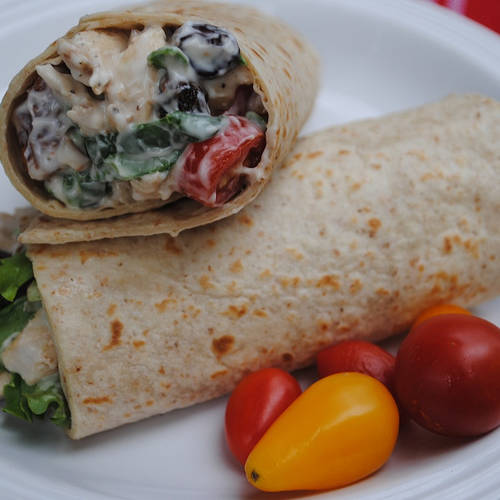 Via earthbalancenatural.com
These creamy wraps look as good as they taste. They're made with Trader Joe's chickenless strips (although you could substitute seitan strips) and a rich, zingy salad containing peppers, tomatoes, raisins, basil, spinach and walnuts. The creamy element comes from Earth Balance mayo, but you can use any vegan mayo or even make your own. You can get the recipe for the creamy wraps here.
11. Vegan lemon raspberry 'cheese'cake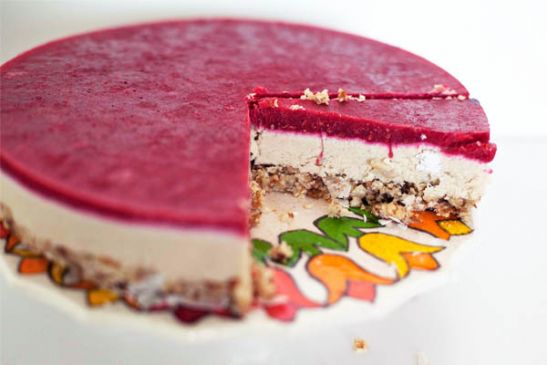 Via recipes.sparkpeople.com
Last but not least, we have dessert. This beautiful, creamy cheesecake is to die for, and thanks to its healthy ingredients you can have more than one slice without feeling too guilty. The tasty crust is made with almonds, coconut flakes and fiber-packed dates rather than sugary biscuits, while the cheese layer is comprised of cashews, coconut oil and vanilla. It also calls for honey, but that isn't technically vegan. Don't worry though; agave nectar is a perfect substitute. Recipe here.
What have we missed? Do you have a favorite vegan recipe? If so, let us know in the comments.
Tags: