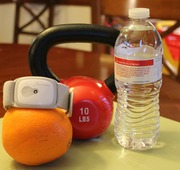 Today is my final weekly update for the EmpowHER BodyMedia FITness Challenge. What started out as an effort to work out harder, eat cleaner, and sleep better turned into chronicles of health issues galore. Sometimes a healthy quest has some deep valleys to traverse before climbing to new peaks. I'm still down in the valley.

I've had to reschedule my thyroid testing and won't get it done until April (long story). I will meet with my ENT tomorrow morning but I can't have my tonsils removed until my thyroid issues are fully known. In the meantime, we are moving to a new house in 12 days. I have PLENTY to keep my mind and body busy! All good things but I'm tired just thinking about getting it all done!

As for this last week on the challenge, I have spent more time sorting, planning, and packing than walking and lifting weights. I've also celebrated my birthday (and my daughter's birthday) with three different dinner parties. I'm off the antibiotics and have regained my appetite. Actually enjoying food again plus all those meals out equated to a three pound gain. I'm disappointed but I knew the rapid weight loss while ill wasn't going to fully equate to permanent pounds gone. I'm still glad to have lost a net 6 pounds during the challenge. In six weeks, that is still a nice amount!
As I reflect back on my six weeks wearing the BodyMedia FIT, I know I learned several things about my health.
1. I don't exercise at high intensity levels but I sustain a low level of consistent physical activity throughout the day. I will work on that!!
2. I average between 6,000-8,000 steps each day without much effort. I have to work hard to reach 10,000-13,000 steps and that is my goal in the future.
3. When healthy, I naturally eat around 1,800 to 2,000 calories most days without even thinking about it. This is fine for maintenance but I need to delve a bit closer to 1500 calories to lose more weight.
4. Wearing the BodyMedia FIT is very motivating to me and keeps my excuses and justifications in check.
5. I only sleep really well a couple of nights each week. I need to work on that.
The BodyMedia FIT is a tool I will continue to use. The data motivates me to do better. I may not have set the world on fire during this challenge but I know I will continue to use my armband to reach new fitness peaks. It's part of my fitness arsenal now. If you need an extra push or are curious about how your fitness habits are affecting your health, I recommend this product wholeheartedly. I'm very thankful to have been a part of this challenge!
BodyMedia FIT automatically tracks the calories burned during your daily activities — from pumping iron to using an iron — and monitors the quality of your sleep, an important factor in weight loss. Add in the easy-to-use food log and you have the information you need to improve your weight loss.
The 3 part system includes:
1. An Armband that automatically captures data
2. An optional Display device or free downloadable mobile apps that give you up-to-the-minute readings throughout the day
3. An online Activity Manager* that analyzes raw data, allows you to log food and presents info in an easy-to-understand way (*subscription required)
I encourage you to take the BodyMedia FITness challenge with me! You can purchase an armband through EmpowHer. You can learn the truth about the lifestyle choices you make throughout the day and how they affect your health.
Disclosure: Device and accompanying online Activity Manager subscription was provided by BodyMedia via EmpowHER. The opinions expressed herein are those of the author and are not indicative of the opinions or positions of BodyMedia or EmpowHER.
Tags: