Pamela Peeke MD, MPH, FACP - Chief Clinical Officer and Chairman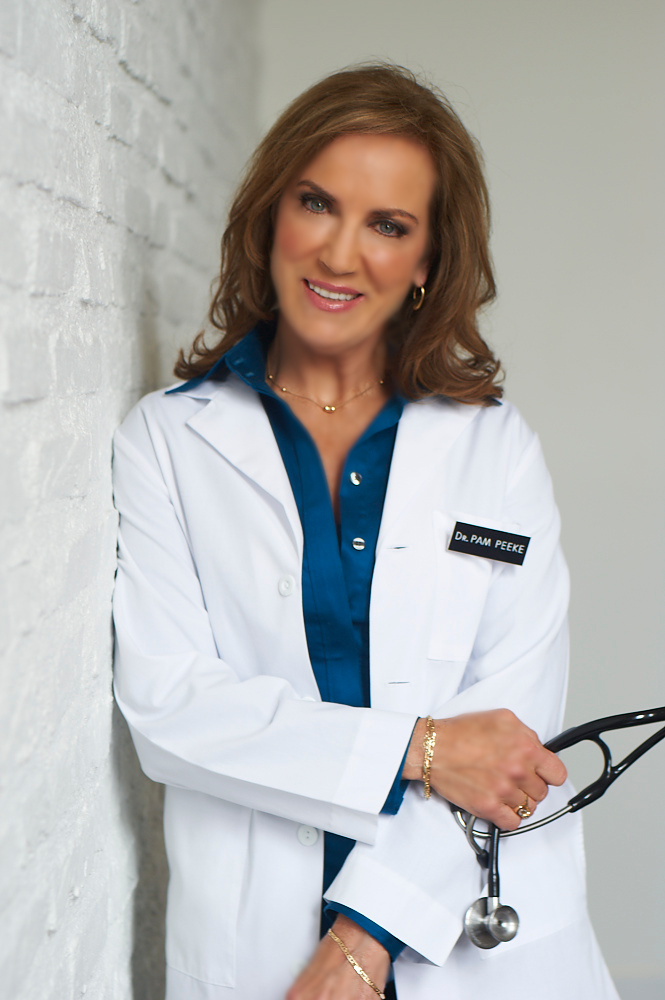 <![CDATA[]]>
Visit Dr. Peeke's Profile
<![CDATA[]]>
Areas of expertise: Nutrition, Healthy Eating, Fitness
Dr. Pamela Peeke is an internationally renowned physician, scientist and expert in the fields of nutrition, metabolism, stress and fitness. Calling herself an "edutainer", Dr. Peeke uses her trademark wit and wisdom to provide audiences with a healthy lifestyle message in such a memorable and entertaining style that she is one of the most requested physician speakers in America. An avid athlete, Dr. Peeke is nationally known as the "doc who walks the talk" as she inspires by living the message she teaches. Dr. Peeke is featured in the National Institutes of Health's "Changing Face of Medicine" exhibit on the history of women physicians at the National Library of Medicine. She has been named one of America's top physicians by the Consumers Research Council of America. Dr. Peeke is a Pew Foundation Scholar in Nutrition and Metabolism, Assistant Professor of Medicine at the University of Maryland and Fellow of the American College of Physicians. Dr. Peeke has teamed with the US Surgeon General to create the Surgeon General Walks for a Healthy and Fit Nation. She is a member of the Maryland Governor's Council on Fitness, and is national spokesperson for the American College of Sports Medicine's Exercise is Medicine global campaign.
Dr. Peeke is the lifestyle expert for WebMD's 90 million members, using a multimedia educational approach that includes The Everyday Fitness with Dr. Pam Peeke blogs, newsletters, podcasts and her healthy diet and lifestyle community exchange.
The chief medical correspondent for Discovery Health TV, she is featured in the award winning National Body Challenge series, as well as her Could You Survive? miniseries. Her book, The National Body Challenge Success Program for the Whole Family, is the best selling companion guide to her television and web-based program which is presently followed by over a million American families. Dr. Peeke is the New York Times bestselling author of Fight Fat after Forty, Body for Life for Women, and Fit to Live. Dr. Peeke's newest book, The Hunger Fix: The 3-Stage Detox and Recovery Plan for Overeating and Food Addiction, launched on the Katie Couric show, and became a New York Times bestseller. Dr. Peeke is the recipient of the Audie Award for her narration and interpretation of Fit to Live. Her Could You Survive? pilot was a finalist for the International Health and Medical Media Freddie Award, considered the highest award for excellence in medical film production.
Dr. Peeke is a regular in-studio medical commentator for the national networks including CNN's American Morning, the Today show and Fox & Friends. She is a monthly columnist and contributing editor for numerous national magazines including Prevention, Good Housekeeping, Fitness, and More Magazine.
Dr. Peeke was the first senior research fellow at the National Institutes of Health Office of Alternative Medicine, where she helped establish the scientific foundation for the research and development of investigations involving stress, nutrition and fitness. At the NIH, Dr. Peeke was the recipient of the National Health Research Science Fellowship and Intramural Research Training Award while conducting her original research on the relationship between adipose distribution and stress.
Dr. Peeke is an expert in the newly emerging field of gender specific health and medicine, emphasizing the strengths and vulnerabilities of both genders as they practice healthy lifestyles. She is the Medical Advisor to the National Women's Health Resource Center and keynote presenter for the Speaking of Women's Health national campaign series. Dr. Peeke is a consultant to corporate America, participating on boards and think tanks drawing upon her skill set spanning the realm from health and wellness lifestyle coaching to predicting trends in the healthy living and aging space.
Dr. Peeke is founder of the Peeke Performance Center for Healthy Living™, which offers her Lifestyle Management Program guiding clients through the mental and physical transformations of their life journeys. Triathlete, marathoner and mountain climber, Dr. Peeke founded the Peeke Week Retreats where she provides her Peeke Performers with the opportunity to mentally and physically challenge themselves in magnificent outdoor destinations including hiking the Grand Canyon, Zion and Bryce National Parks. The Peeke Week Retreats also include athletic challenges (marathons, cycling adventures, triathlons) in combination with relaxation and rejuvenation at destinations including Red Mountain Resort, Miraval, Canyon Ranch and the Golden Door. Her retreats have been featured in Fitness, Prevention and More magazines.
Disclosures: None.
Theodore Friedman, MD, PhD

<![CDATA[]]>
Visit Dr. Friedman's Profile
<![CDATA[]]>
Theodore C. Friedman, M.D., Ph.D. is the Chairman of Medicine and Chief of the Division of Endocrinology, Molecular Medicine and Metabolism at Charles Drew University, in Los Angeles. Dr. Friedman is board certified in Internal Medicine and Endocrinology, Diabetes and Metabolism. He is also the director of the Metabolic and Cardiovascular Diseases Research Cluster. He holds an Endowed Professorship in Cardio-Metabolic Medicine. He is Professor of Medicine at UCLA and Charles Drew University. Dr. Friedman earned a Bachelor of Science in Chemistry and Biological Sciences from Stanford University in 1980, a Master of Philosophy in Pharmacology and a Ph.D. in Pharmacology from City University of New York in 1984 and 1986, respectively, and his M.D. from Mount Sinai School of Medicine in New York in 1987. He completed his residency at University of Michigan Hospitals in Ann Arbor, Michigan between 1987-1989.
Dr. Friedman has received several NIH grants, covering hormone regulation, including thyroid, adrenal, pituitary, testosterone, and pancreatic functions. He has published over 80 papers in peer-review journals and wrote the thyroid and adrenal chapters for the widely read textbook, Cecil Essentials of Medicine. His basic science research interests are in pro-hormone processing as related to drug addiction, diabetes, thyroid disease and obesity as well as substance abuse and the hypothalamic-pituitary-adrenal axis. He also is studying how glucocorticoids and enzymes that regulate their tissue levels are involved in diabetes and obesity and also studying why smokers get more heart disease.
His clinical research interests are adrenal and pituitary disorders and he has an NIH-funded clinical trial giving testosterone to women with hypopituitarism. His clinic interests includes difficult to diagnose pituitary, adrenal and thyroid disorders. He is one of the world's experts on Cushing's syndrome. He also wrote a popular lay book on thyroid diseases, entitled "The Everything Health Guide to Thyroid Disease".
Dr. Friedman also sees difficult to diagnose Endocrine patients in his private practice, which is near Beverly Hills, CA. He specializes in Cushing's syndrome and pituitary, adrenal and thyroid disease. He also sees patients with menopausal issues and fatigue issues. One of his patients wrote the following about him in the Pituitary Tumor Network Association Newsletter: "I have a dream that one day all medical school graduates will have a true interest in science. In this dream world, the doctors will have learned to be good listeners before they are granted their diplomas. They will be excited about searching out truth-in a microscope, a vial of blood or a careful review of patterns. I believe Dr. Friedman already went to this mythical medical school. I just wish there were more in his graduating class". These clinical exposures remind him that the ultimate purpose of his biomedical research is to improve the quality of life and provide better heath for all his patients. To find out more about Dr. Friedman or to schedule an appointment, visit <![CDATA[]]>www.goodhormonehealth.com<![CDATA[]]>.
Disclosures: None.
Gail Gross, PhD EdD

<![CDATA[]]>
Visit Dr. Gross' Profile
<![CDATA[]]>
Dr. Gail Gross is a nationally recognized family and child development expert, author and lecturer. Her positive and integrative approach to difficult issues helps families navigate today's complex problems.
Dr. Gross is frequently called upon by national and regional media to offer her insight on topics involving family relationships, education, behavior, and development issues. A dependable authority, Dr. Gross has contributed to broadcast, print and online media including CNN, FOX's The O'Reilly Factor, MSNBC, The New York Times and USA Today. ABC, CBS and KHOU, Great Day Houston Show. She is a veteran radio talk show host as well as the host of the nationally syndicated PBS program, "Let's Talk."
Dr. Gross is a longtime leader in finding solutions to the nation's toughest education challenges. She co-founded the first-of-its kind Cuney Home School with her husband Jenard, in partnership with Texas Southern University, in 1996. The school serves as a national model for improving the academic performance of students from housing projects by engaging the parents. Additionally, she recently completed leading a landmark, yearlong study in the Houston Independent School District to examine how stress-reduction affects academics, attendance, and bullying in elementary school students, and a second study on stress and its effects on learning.
Such work has earned her accolades from distinguished leaders such as the Dalai Lama, who presented her with the first Spirit of Freedom award in 1998. Most recently, she received the Good Heart Humanitarian Award from Jewish Women International, Perth Amboy High School Hall of Fame Award, March 21, 2003.
Dr. Gross' soon-to-be second book, Smart for Life, teaches parents how to enhance a child's learning potential through various developmental stages. Two additional books are slated to follow, including The Only Way Out Is Through, a Jungian approach to navigating life's transitions including grieving, and Defining Moments, which recounts the defining moments of celebrity guests as shared with Dr. Gross during interviews on PBS' "Let's Talk."
Dr. Gross received a BS in Education from the University of Houston. She earned her master's degree in secondary education with a focus on Psychology from the University of St. Thomas in Houston. Dr. Gross received her second PhD in Psychology, with a concentration in Jungian studies. Dr. Gross was the recipient of Kappa Delta Pi An International Honor Society in Education, April 11, 1989. Dr. Gross was elected member of the International English Honor Society Sigma Tau Delta, September 20, 1990.
Disclosures: None.
Jay Harness, MD

<![CDATA[]]>
Visit Dr. Harness' Profile
<![CDATA[]]>
Dr. Jay Harness, the past-President of The American Society of Breast Surgeons and the President-elect of Breast Surgery International, is the Director at St. Joseph Hospital Comprehensive Breast Center in Orange, California. Practicing medicine for 35 years, Dr. Harness specializes in general surgery and medical oncology.
After graduating from medical school from the University of Michigan, Ann Arbor, he conducted his internship and residency at the University of Michigan Medical Center. Dr. Harness then remained on the faculty at the University of Michigan and developed the second United States multidisciplinary breast center in 1985. He left the University of Michigan in 1989 and spent two years at Tufts University School of Medicine in Boston where he also established a multidisciplinary breast center at St. Elizabeth's Medical Center. Subsequently, he came to Oakland, California in 1991 to join the University of California-East Bay Department of Surgery where he was a Professor and Chief of Surgical Oncology at Highland General Hospital. The opportunity to direct his third multidisciplinary breast center in Southern California came in the summer of 2003.
Dr. Harness has also had two teaching opportunities during his career: both as Chief of Surgical Oncology at the Alameda County Medical Center at the University of California-Highland Campus in Oakland, California, and as a Clinical Professor of Surgery, at the University of California, San Francisco School of Medicine.
Dr. Harness has been recognized nationally and internationally for his work in breast and endocrine surgery. He is a member of several national and international surgical societies and associations. He has served as Secretary-Treasurer, and President of the American Association of Endocrine Surgeons and Chair, Board of Directors, of The American Society of Breast Surgeons. He has authored nearly 80 scientific articles and book chapters and has been the lead editor of 2 textbooks.
Publications and books include Breast Cancer-Collaborative Management, helping to edit Ultrasound in Surgical Practice: Basic Principles and Clinical Applications, and writing chapters in over 20 books, including Expert Consultations in Breast Cancer and Surgical Oncology.
Dr. Harness has also worked as Principal Investigator in two studies: "Breast Cancer Early Detection Regional Partnership," through the California Department of Health Services, and "The Breast Care Center: Innovative Care for the Underserved," through the Breast Cancer Research Program.
Disclosures: Speaker (Honorarium), Genomic Health, Redwood City, CA. Speaker (Honorarium), IntraOP Medical, Sunnyvale, CA. Speaker (Honorarium), Novadaq Technologies, Mississauga, Canada. Speaker (Honorarium), Medtronic Advanced Energy, Minneapolis, MN
Marty Klein, PhD

<![CDATA[]]>
Visit Dr. Klein's Profile
<![CDATA[]]>
Dr. Marty Klein has been a Licensed Marriage and Family Therapist and Certified Sex Therapist for 29 years. His career has been aimed toward a single set of goals: telling the truth about sexuality, helping people feel sexually adequate and powerful, and supporting the healthy sexual expression and exploration of women and men.
As a clinician, Marty works each week with couples and individuals who have a variety of sexual and non-sexual difficulties—over 30,000 sessions since 1980. He also provides consultations to other therapists and supervises their cases. Known and respected by his colleagues, Marty has been honored by the Society for the Scientific Study of Sexuality; American Association of Sex Educators, Counselors, & Therapists; and the California Association of Marriage and Family Therapists.
Dr. Klein pursues his goal of a sexually enlightened world through therapy, lectures, writing, forensic, and media work. He has written over 100 articles for publications such as The Journal of Sex Research, The Journal of Homosexuality, and San Francisco Medicine, and has been a contributing editor of The New Physician, American Baby, and Modern Bride.
Marty has written five books, which have been translated into a dozen languages. He has written and published 7 training programs for therapists, which are available as CD sets.
A tireless speaker, Marty has trained over 50,000 physicians, psychologists, and social workers. He has given over 700 keynote speeches, training programs, and popular lectures to groups across North America and in 12 countries, including India, Morocco, Croatia, Turkey, and the Soviet Union.
Dr. Klein is frequently interviewed by the popular media, most recently in Newsweek and on ABC-TV's 20/20. Both his blog and electronic newsletter, both named Sexual Intelligence, are considered authoritative sources for information and expert opinion on sexuality, culture, politics, and the media.
Disclosures: None.
Machelle Seibel, MD

<![CDATA[]]>
Visit Dr. Seibel's Profile
<![CDATA[]]>
Dr. Machelle (Mache) Seibel is America's health expert and Editor of My Menopause Magazine, addressing the critical needs of consumers from stress and weight control to menopause and beyond. He served on the Harvard Medical School faculty for 19 years and is a pioneer in many areas of women's health. He works with companies and organizations to bring exciting educational content to consumers.
Host for PBS and NYC TV episodes, frequent media expert
Repeatedly voted into Best Doctors in America
Past Editor-in-Chief of the medical journal Sexuality, Reproduction & Menopause
Distinguished Alumnus Award, the University of Texas Medical Branch's highest honor 2008
Multiple national awards for research, writing, music writing and patient education
Professor, University of Massachusetts Medical School 2004-present
Director, Complicated Menopause Program, University of Massachusetts Medical School 2004-2011
Founder of HealthRock® reshaping health education with health songs and entertainment
Past Medical Director, Inverness Medical Innovations (now Alere)
Corporate Consultant and Corporate Health Expert Nationally and Internationally
Author/editor 14 books, over 200 scientific articles,
American Cancer Society New England Division Medical Advisory Network
Advisory board of Dr. Mehmet Oz's HealthCorps initiative to fight childhood obesity
Nationally known guest speaker, key note speaker
Disclosures: None.
Philip M. Sarrel, MD

<![CDATA[]]>
Visit Dr. Sarrel's Profile
<![CDATA[]]>
Philip M. Sarrel, M.D., completed his medical education at New York University School of Medicine, his internship at the Mount Sinai Hospital, and his residency at Yale New Haven Hospital. In addition to his many years on the faculty of the Departments of Obstetrics and Gynecology and Psychiatry at Yale University School of Medicine, Dr. Sarrel has also been a Faculty Scholar in the department of psychiatry at Oxford University, Visiting Senior Lecturer at King's College Hospital Medical School at the University of London, Visiting Professor in Cardiac Medicine at the National Heart and Lung Institute in London, and Visiting Professor in the Department of Medicine at Columbia University College of Physicians and Surgeons in New York. He is currently Emeritus Professor of obstetrics, gynecology, and psychiatry at Yale University.
Dr. Sarrel is the founder of the Yale Menopause Program and the Yale Sex Counseling Service. His research interests have included the effects of transdermal estrogen in postmenopausal women with symptomatic atherosclerotic coronary vascular disease; nutrients and endothelial function; ovarian hormones and menstrual cycle-related migraines; postmenopausal sexual function, and numerous other topics. He is the author or coauthor of more than 100 journal articles, 50 book chapters, and 6 books, as well as more than 50 abstracts.
Dr. Sarrel is an editor of Maturitas, The Journal of the International Menopause Society; Menopause, the Journal of the North American Menopause Society as well as serving as a reviewer for numerous journals, including the American Journal of Obstetrics and Gynecology, Obstetrics and Gynecology, and the Journal of Clinical Endocrinology and Metabolism.
Disclosures: None.
Dr. Mao Shing Ni, DOM, PhD, ABAAHP

<![CDATA[]]>
Visit Dr. Ni's Profile
<![CDATA[]]>
Dr. Mao Shing Ni, popularly known as "Dr. Mao" comes from a long line of Chinese medicine doctors in his family. Well known and respected in the field of integrative medicine, he is the founder of Yo San University of Chinese Medicine and holds two doctorates in Oriental Medicine as well as being board certified in anti-aging medicine. Dr. Mao has written 18 books including his bestselling books Secrets of Longevity, Second Spring and Secrets of Self Healing and his latest, BACK to Pain-Free Health. Awarded "Best of the Best" on The Dr. Oz Show, Dr. Mao can also be seen on The Home and Family Show, Katie Couric, as well as the pages of The New York Times and The Los Angeles Times. Online he writes about natural health and longevity on The Huffington Post, Ask Dr. Mao and many other popular websites. Dr. Mao and his team of doctors practice at Tao of Wellness, integrative medical centers in Santa Monica, Newport Beach and Pasadena, California. Dr. Mao also founded Wellness Living, an herbal and vitamin supplement company featuring proprietary formulations.
Disclosures: Dr. Mao derives income from Wellness Living.
Robert Singer, MD

<![CDATA[]]>
Visit Dr. Singer's Profile
<![CDATA[]]>
Few surgeons are as respected by their peers and as esteemed by their patients as Dr. Robert Singer. With an eye for balance and beauty and the skills of an artist, he has helped thousands of people in Southern California and around the world attain the rejuvenated appearance they have always wanted. Dr. Singer has been engaged in private practice in the La Jolla area of San Diego since 1976 and is now an internationally recognized plastic surgeon.
While Dr. Singer's practice may be based in the La Jolla area of San Diego, his reputation as an expert plastic surgeon extends to the entire world. Dr. Singer appears regularly on radio and television programs such as 'Larry King Live,' in national and local newspapers, and in national and international fashion, news, and health magazines. Dr. Singer has also been a resource for plastic surgery information to the Medical Board of California and the Congress of the United States.
Dr. Singer is a sought-after speaker who lectures to prominent surgical organizations and non-medical audiences in the United States, Europe, Asia, and Central America, including the prestigious Young Presidents' Organization, CEO, and World Presidents Organization. Throughout his career, Dr. Singer has also authored many scientific publications on various aspects of reconstructive and aesthetic plastic surgery.
Board Certified: American Board of Plastic Surgery
Fellow: American College of Surgeons
Clinical Professor Surgery (Plastic); University of California San Diego
Previous Chairman of Plastic Surgery and Vice-Chairman of the Surgery Department: Scripps Memorial Hospital, La Jolla, California
Prior President; and current Trustee: American Society for Aesthetic Plastic Surgery (ASAPS)
Former Chairman of the Board of Trustees: American Society of Plastic Surgery (ASPS)
Prior President: California Society of Plastic Surgeons (CSPS)
Prior President: Aesthetic Surgery Education and Research Foundation
Former President and current Trustee: American Association for Accreditation of Ambulatory Surgery Facilities (AAAASF)
President: American Association for Accreditation of Ambulatory Surgery Facilities Educational Foundation
Prior President: San Diego International Society of Plastic Surgeons
Former President: San Diego Plastic Surgery Society
Chairman Editorial Advisory Board: NewBeauty Magazine
Dr. Singer has received numerous honors and recognitions:

Best Doctors in America
Town and Country Magazine – "Best Aesthetic Surgeons in America"
San Diego Magazine- Selected by peers, "Best Plastic Surgeons in San Diego"
La Jolla Light Newspaper- selected by the community: "Best Plastic Surgeon in La Jolla"
ASAPS Plastic Surgery Leadership Award
ASAPS Distinguished Service Award for Plastic Surgery Leadership
CSPS Presidential Award for Leadership
Castle Connolly: America's Top Doctors – Multiple years in a row
San Diego Business Journal: Health Care Champions Award
Practice emphasis: Aesthetic (Cosmetic) Surgery
Disclosures: Co-Chair of the Editorial Advisory Board for NewBeauty, Sandow Media Corp., small equity position and stipend. ANZU Medical: Advisor, stock options
David L. Katz MD, MPH, FACPM, FACP

<![CDATA[]]>
Visit Dr. Katz's Profile
<![CDATA[]]>
Dr. David L. Katz is the founding director of Yale University's Prevention Research Center. He received his BA from Dartmouth College (1984; Magna Cum Laude); his MD from the Albert Einstein College of Medicine (1988); and his MPH from the Yale University School of Public Health (1993). He is a board certified specialist in both Internal Medicine and Preventive Medicine/Public Health. Katz is Director and founder of the Integrative Medicine Center at Griffin Hospital (2000) in Derby, CT, and founder and president of the non-profit Turn the Tide Foundation.
Know internationally for expertise in nutrition, weight management, and chronic disease prevention, as well as integrative care and patient-centered care models, Katz is active in patient care, research, teaching, and public health practice. He established, and formerly directed, one of the nation's first combined residency programs in Internal Medicine and Preventive Medicine; and served as Director of Medical Studies in Public Health at the Yale School of Medicine for 8 years.
Katz has secured nearly $35 million in research funding. He has published over 120 scientific articles & textbook chapters; nearly a thousand newspaper columns; innumerable commentaries and blogs; and 12 books to date. He has consulted on obesity control and chronic disease prevention to the World Health Organization; National Cancer Institute; National Governors Association; Health Canada; the Health Ministry of Israel; the Institute of Medicine; several U.S. Governors; the US Secretary of Health; and the FDA.
Katz is a prominent voice in health & medicine in the media. He is a frequent consultant and former on-air contributor to ABC News; a health editor for the Huffington Post; an on-line writer for Prevention Magazine; a health columnist for the New Haven Register; and a frequent source for leading newspapers and magazines such as The New York Times; the Wall Street Journal; The Washington Post; Time; Newsweek; and many more. He has appeared numerous times on most major news programs, including ABC World News; The Today Show; CNN; Good Morning America; 20/20; 48 Hrs; and more. He is a regular guest on the Dr. Oz Show. He was an on-air contributor to Good Morning America (2005-2007); a health columnist for the New York Times Syndicate; and the nutrition columnist to O, The Oprah Magazine (2002-2010).
Dr. Katz serves as a reviewer of federal research grants for the NIH, the CDC, and AHRQ, as well as a number of international organizations. He is a peer reviewer for numerous leading medical journals. He is on the editorial advisory boards of The American Journal of Health Promotion; Prevention Magazine; Health; Men's Health; Children's Health; and Eating Well. In 2011, he was appointed Editor-in-Chief of the peer-reviewed journal, Childhood Obesity. He is on numerous advisory boards, including that of Dr. Mehmet Oz' HealthCorps. A highly regarded orator represented by the prestigious Harry Walker Agency, Dr. Katz has delivered keynote addresses at conferences throughout the United States and in numerous other countries, including Canada, Israel, France, Poland, and Austria.
Katz has 5 U.S. patents, several patents pending, and is the principal inventor of the Overall Nutritional Quality Index (patents pending) utilized in the NuValâ"¢ nutrition guidance program (www.nuval.com), currently offered in over 1,500 supermarkets throughout the United States, from coast to coast. He has been recognized three times by the Consumers Research Council of America as one of the nation's top physicians in Preventive Medicine. He was nominated for the position of US Surgeon General in 2009 by the American College of Physicians, the American College of Preventive Medicine, and the Center for Science in the Public Interest, among others; and was the 2011 recipient of the Katharine Boucot Sturgis award from the American College of Preventive Medicine the most prestigious award the College confers - awarded for illustrious career contributions to the field of Preventive Medicine. Also in 2011, he received the Lenna Frances Cooper Award from the American Dietetic Association for illustrious contributions to the field of nutrition.
Dr. Katz and his wife, Catherine, live in CT. They have 5 children.
Disclosures: None.
James A. Yiannias, MD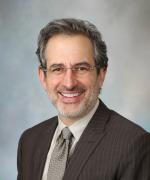 <![CDATA[]]>
Visit Dr. Yiannias' Profile
<![CDATA[]]>
Dr. James A. Yiannias, MD (Pronounced YON-us) is a Board Certified Dermatologist and Associate Professor of Dermatology at the Mayo Clinic College of Medicine, Scottsdale, AZ. He is a general dermatologist with specialty and published research expertise in allergic contact dermatitis and oral diseases. In addition to his clinical duties, he currently serves as the Associate Medical Director for the Mayo Clinic Center for Innovation.
Dr. Yiannias was born in Houston, Texas and attended Austin College in Sherman, Texas. He graduated from Baylor College of Medicine in 1988 and performed his Dermatology Residency at Mayo Clinic, Rochester, Minnesota. He was appointed to the staff of Mayo Clinic in 1992.
Dr. Yiannias served as the Dermatology Residency Program Director from 1999-2005 and the Chair of Dermatology at Mayo Clinic in Arizona from 2007 until 2013.
He has received the American Academy of Dermatology highest honor, Gold Triangle Award and the American Contact Dermatitis Society Presidential Citation for his creation of the skin allergy management program called CARD, the Contact Allergen Replacement Database.
Disclosures: None.
Farhan Taghizadeh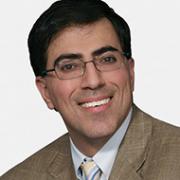 <![CDATA[]]>
Visit Dr. Tahizadeh's Profile
<![CDATA[]]>
Having performed over 3,500 facelifts, 4000 laser-resurfacing procedures, and with several medical patents in his name, Dr. Farhan Taghizadeh is a recognized expert and innovator in the field of facial rejuvenation. After graduating from Yale University with a BS in molecular biology, he attended Penn State College of Medicine and completed a prestigious research fellowship at Harvard Massachusetts Eye and Ear Infirmary. Dr. Taghizadeh is passionate about using technology to enhance the patient care experience, and recently started an aesthetics company with the goal of bringing the best in aesthetics to patients across the country. He lives in Arizona with his wife and their three children.
Founder of OmniBioInnovations, Aesthetics BioMedical, and AmnioAesthetics.