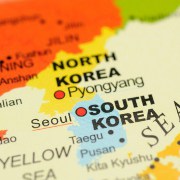 Photo: Getty Images
It's happening in South Korea just like it happens here in the United States: non-plastic surgeons are rushing to cash in on the profitable cosmetic surgery business.
According to The Chosunilbo, an online newspaper covering Korean politics, business, sports and more, although certified plastic surgeons are the only doctors authorized to perform cosmetic surgery locally, there are ways to sidestep the regulations. Some practitioners promote their business as a "beauty clinic" or "aesthetic clinic." Then, says the The Chosunilbo, they may add the term "plastic surgery," and in small, almost disguised lettering "offering" (The Chosunilbo 1). This somehow allows these practitioners to get around the rules.
Most tourists journeying to Asia and other parts of the world probably do not go with a visit to a low cost beauty clinic in mind. But today, many people do travel to countries outside the United States to save money on cosmetic surgery.
If you are contemplating a trip overseas with a cosmetic procedure on the agenda, as you steer clear of low cost clinics with untrained providers, there's one more thing to keep in mind. You must know the local laws governing who can perform cosmetic surgery and you must choose a surgeon with appropriate credentials, and those two imperatives aren't necessarily the same thing.
This isn't necessarily a straightforward process in any area of the world. In the United States, for instance, certification by the American Board of Plastic Surgery (ABPS) is the utmost in plastic surgery credentials. ABPS certification tells you a doctor is a trained plastic surgeon, having a degree from an accredited medical school plus five years of residency, at least two of those focused on plastic surgery (ABPS1). Still, ABPS certification is not required for a doctor to perform cosmetic surgery in the United States — any medical doctor can add breast augmentation, liposuction and other procedures to their services and many do.
It can be even more difficult to find out and understand the credentials of a foreign cosmetic surgeon and determine whether they are operating within the letter of their local laws. One place to start is the International Society of Aesthetic Plastic Surgery (ISAPS). This organization accepts only plastic surgeons who are "Full Active Members of their country's ISAPS recognized National Society of Plastic Surgery or the National Society of Aesthetic Plastic Surgery". Other requirements include at least three years in practice, peer recommendations and more (ISAPS 1).
Traveling to seek aesthetic improvement can be tempting, given that prices are generally lower in most countries than they are in the United States. In some countries, rules about who can perform cosmetic surgery and related procedures are quite stringent. Investigating ahead of time is a must, however, to ensure you know exactly what you're getting.
There are many reasons to be cautious about traveling away from home for cosmetic surgery. These include the discomfort of initial recovery far from familiar surroundings, the difficulty of dealing with dissatisfaction with results and others. But the most critical challenge of all is understanding in exactly whose hands you'll be putting your looks — and your life.
References:
The Chosunilbo. Non-Specialists Jump on the Plastic Surgery Bandwagon. August 7, 2011. ChosunMedia. Web. August 7, 2011.
http://english.chosun.com/site/data/html_dir/2011/08/06/2011080600255.html
ABPS. Frequently Asked Questions. The American Board of Plastic Surgery. Web. August 7, 2011.
https://www.abplsurg.org/ModDefault.aspx?section=Faq
ISAPS. Selecting an Aesthetic Plastic Surgeon. International Society for Aesthetic Plastic Surgery. Web. August 7, 2011.
http://www.isaps.org/selecting.php
Reviewed August 9, 2011
by Michele Blacksberg R.N.
Edited by Jody Smith